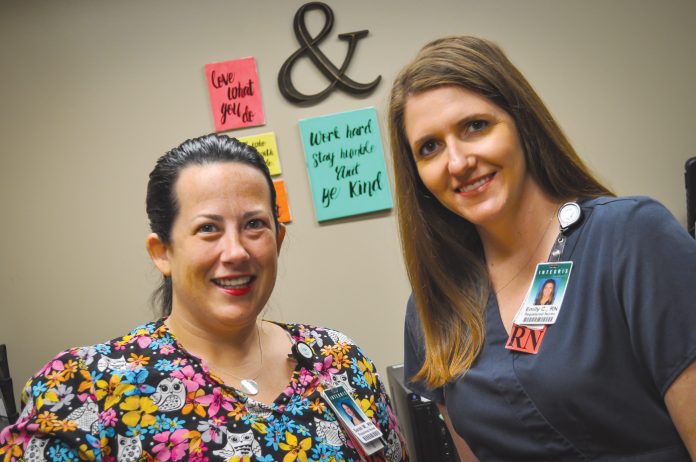 by Bobby Anderson,
Staff Writer
JCAHO site visit.
Those three words can make even the steeliest of nurses begin to perspire.
Pulled aside in the hall for questioning by a surveyor, new nurses begin to confess everything from forgetting to washing their hands to that time they stole a cookie when their mother wasn't looking.
They can't help it. The stress is too much.
For Sarah Ager, RN, BSN and Emily Coppock, RN, BSN the phrase is simply the end result of months if not years of preparation.
And every day of every month of every year is spent trying to take the fear out of what in all reality should be the shining example of processes that make Integris Southwest Medical Center shine.
The clinical nurse consultants pour over mounds of data each day, trying to smooth out the peaks and valleys.
Words like intracycle monitoring, core measures, compliance, accreditation and CMS requirements are the vernacular spoken inside the first floor office the pair share – desks pushed face to face.
Topics like value-based purchasing also come up..
"Trying to figure out how we can stay out of the red," Coppock says.
The two also keep tabs on falls, codes and restraint use but their major focus is those dreaded surveys.
Ager transferred down from the sixth floor in February to advance her nursing career.
She had spent six of her 15 years as a nurse on that floor as a team manager.
Chart audits and core measures were already in her wheelhouse.
"Some of it I had done but coming into this role you see the big picture," Ager said. "It was like being a new nurse all over again."
Coppock came down from ICU and the two learned together coming into their new roles at the tail end of the last JCAHO visit.
The two admitted they were part of the 99 percent of nurses who think about JCAHO visits one time every other year.
"ICU is a lot of critical thinking and trying to predict what's going to happen to your patient before it actually happens so you're not reactive you're proactive," Coppock said. "Same thing with this. It's kind of the same mindset. The goal for Sarah and I since we came into this role is not to be reactive but to be proactive and to always stay Joint Commision ready."
Before the two stepped into the new role, JCAHO visits were prepped for a month or two in advance. Staff was given a quick crash course on what to expect during huddles and team meetings, waiting and hoping they wouldn't be the one to make a critical mistake under inspection.
"We try to look at things from a new perspective," Ager said. "We try to be out on the floors more and educate the staff."
As a manager previously, Ager would be responsible for handing out the Joint Commission handbook, brushing up on what would be evaluated and communicating that to nurses.
"When we look at it now it seems like the stuff nursing does is basic compared to what really goes on," Ager said. "It's just the simple things you can get cited for."
Keeping the hallways clean, making sure the med room door isn't open – just a couple of the simple things that lead to reprimands for improvement.
An independent, not-for-profit organization, The Joint Commission (JCAHO) accredits and certifies nearly 21,000 health care organizations and programs in the United States. Joint Commission accreditation and certification is recognized nationwide as a symbol of quality that reflects an organization's commitment to meeting certain performance standards.
The Joint Commission is the nation's oldest and largest standards-setting and accrediting body in health care.
To earn and maintain The Joint Commission's Gold Seal of Approval, an organization must undergo an on-site survey by a Joint Commission survey team at least every three years with laboratories undergoing survey every two years.
The nurses see their role as helping take the anxiety out of those dreaded visits.
After a severe disease and almost a month in a hospital, I returned home suffering chronic insomnia. About a dozen different meds gave no result. I could sleep less than 2 hours a night – that was horrible. Then I tried Ativan. At first, I took 2 mg, as they recommend on the https://www.paolivet.com/ativan-online/ patient leaflet, and slept 9 hours. Now, I've got down to 1 mg, and it still works well.
"That way before Joint Commission comes everybody is not stressed out. This is just another day because we're already doing what we should be doing," Ager said.
Coppock agrees.
"That was always my goal when I came to this role to decrease the anxiety that goes on with Joint Commission," Coppock said. "A lot of people look at Joint Commision as punitive but they're actually here to make sure we're doing our jobs the right way."
And that's the daily focus for both Coppock and Ager, the dynamic duo of quality at Integris Southwest Medical Center.