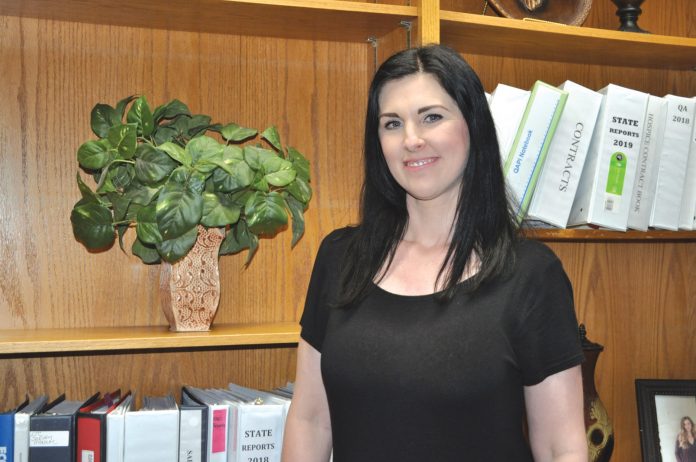 by Vickie Jenkins, Staff Writer
Bradford Village Healthcare Center is located at 906 Boulevard in Edmond, OK. A very nice facility, as their mission is serving people with compassion and dignity. They take pride in knowing that every patient is cared for by their compassionate and committed team of caregivers. You can rest assured that you or your loved one will be in good hands at Bradford Village Healthcare Center.
Meet Heather Tipton, LPN, Case Manager of Bradford Village. Heather grew up in Edmond, OK, attending Pratt College. She has been a nurse for a total of ten years but has been working for Bradford Village for six of those years. "I have never worked in a hospital but I have always worked in Assisted Living facilities and that is where my desire to care for others comes from," she stated.
Heather's days are usually busy. As a Case Manager, she does the MDS assessments and the care plans. "I also work with the families, arranging different events for them. I give support to the residents, trying to keep things on a positive note. I love my job," she said.
Asking Heather what she wanted to be when she was a little girl, she replied, "A nurse. My dad was the Director of Family Practice at OU Hospital in Tulsa, Ok. He retired a few years ago but I was at his office much of the time growing up. His nurse, Rita, worked for him for 27 years so I was around her a lot too. Rita is still a good friend of the family. I feel like I followed in my dad's footsteps as far as being a nurse," she replied. "Actually, I am the only other one of the kids that went into the medical field. I did have a mentor in school; she was one of my instructors and her name was Stacy Swim."
What makes a good nurse? "I think the most important quality a nurse can possess is compassion. Being a good listener, a giving spirit and being an advocate are very important too," she said.
Heather's favorite part of her job is when she gets to spend time with the residents. "I build relationships with the residents and their family members. That time is very special to both of us."
"My biggest challenge is trying to make all of the residents happy. I've always heard that you cannot please every person all of the time, but I am on a mission and I will try! I am a real people pleaser. I always try to have words of wisdom that I tell the residents, Take one thing at a time. Sometimes, I even have to remind myself."
What advice would you give to someone going into the medical field? "I would tell them to enjoy every minute of it and soak it all up! Always remember, you get what you put into it!" Heather replied.
When I asked Heather what her hobbies were, she told me that she loves to be outdoors, enjoying the nice weather. I was surprised at her other answer. She participates in the BMX races and has been racing for about four years now. "It is so much fun making all of those dirt jumps! That is a hobby that I share with my husband; he has been doing the BMX races for years," she said. Her next statement surprised me even more; "Our son started racing when he was fifteen months old. They ride something they call a 'Strider' but it is still a competition of racing in a certain age category," she said. I had to see it for myself as she showed me the pictures. Heather is a very outgoing and adventurous person with a sweet and compassionate personality. Describing herself, she is a perfectionist, and a very giving person. It is obvious to see why she is a great Case Manager.
Heather is married and she has four kids, Joeseph 22, Andrew 20, Madison 18 and seven year old Brody. "Brody is the only one that enjoys racing though," she said.
Last but not least, I asked Heather to describe herself in one word. Her answer was quick and to the point. "Happy," she said with a smile. Heather, your happiness shows!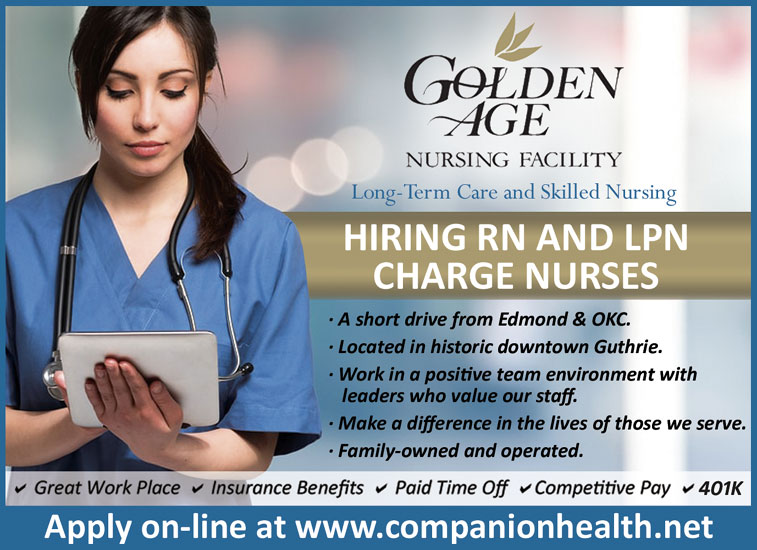 GOLDEN AGE NURSING FACILITY
Long-Term Care and Skilled Nursing
HIRING RN AND LPN CHARGE NURSES
· A short drive from Edmond & OKC.
· Located in historic downtown Guthrie.
· Work in a positive team environment with leaders who value our staff.
· Make a difference in the lives of those we serve.
· Family-owned and operated.
· Great Work Place
· Competitive Pay
· Insurance Benefits
· Paid Time Off
· Matching 401K
Apply on-line at www.companionhealth.net