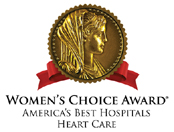 Norman Regional's HealthPlex has received the 2016 Women's Choice Award® as one of America's Best Hospitals for Heart Care. This evidence-based designation is the only heart care award that identifies the country's best healthcare institutions based on robust criteria that considers female patient satisfaction, clinical excellence, and what women say they want from a hospital.
The list of 352 award winners, including Norman Regional, represents hospitals that not only performed well clinically with regard to heart care measures, but also had a high recommendation rate, a measure that is very important to women when choosing a hospital; signifying Norman Regional's commitment to meeting the highest standards in heart care.
"Norman Regional's team prides themselves on providing expert care to our community. We offer nationally recognized care, right here in Norman, Oklahoma," said Norman Regional President and CEO David Whitaker. "Being honored with a Women's Choice Award for Heart Care proves the dedication and expertise of our physicians, nurses, therapists and entire team."
Norman Regional's comprehensive heart services include a women's heart program, a nationally-accredited Chest Pain Center, a dedicated Heart Hospital, and a four-phase cardiac rehabilitation program.
"From the doctors' offices to our Heart Hospital to paramedics who begin treatment in the field and therapists who help patients return home, Norman Regional offers a complete continuum of care for heart patients," said Richie Splitt, Vice President and Chief Administrative Officer of Norman Regional's HealthPlex.
The 2016 America's Best Hospitals for Heart Care list is determined by first identifying hospitals across the nation that offer a minimum number of cardiac and/or vascular services. Only hospitals that perform well clinically with regard to heart care measures reported to Medicare, and also have a high Hospital Consumer Assessment of Healthcare Providers and Systems (HCAHPS) recommendation score, are selected. Data provided is totally objective and uniform. No subjective considerations are used to determine the award recipients.
"Considering heart disease is the number one killer of women across the country, helping her find the best in cardiac care is how we empower women and hospitals to live better lives," says Delia Passi, CEO and Founder of the Women's Choice Award.