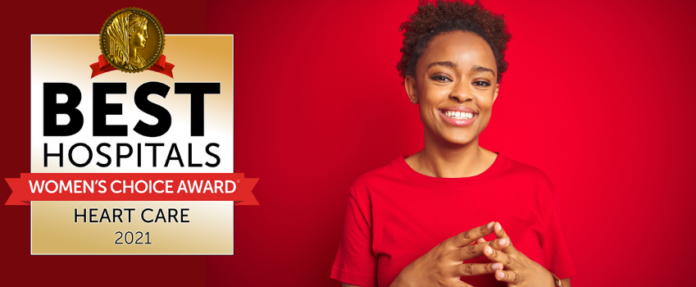 Norman Regional Health System has been named one of America's Best Hospitals for Heart Care by the Women's Choice Award®, America's trusted referral source for the best in healthcare. The award signifies that Norman Regional is in the top 1% of 4,542 U.S. hospitals offering heart care services.
According to the American Heart Association, heart disease is the No. 1 killer of American women, causing 1 in 3 deaths each year—approximately one woman every minute. What's often thought of as a "man's disease" strikes more women than men, and is more deadly than all forms of cancer combined.
"With such strong prevalence of heart disease in women, we empower her to find the best cardiac care to ensure a better chance of beating the disease," said Delia Passi, founder and CEO of The Women's Choice Award. "We help women by conducting evidence-based research and by recognizing the hospitals that could one day save their lives."
The methodology used to select Norman Regional as one of America's Best Hospitals for Heart Care is unique in that it evaluates:
* The number of cardiac/vascular services offered. Recognized hospitals must offer at least six of the following services: Cardiac Catheter Lab, Cardiac Rehabilitation, Cardiac Surgery, Carotid Stenting, Coronary Interventions, Electrophysiology, Vascular Interventions, Vascular Surgery and Coronary Intensive Care (CCU).
* 30-Day mortality and readmission rates for heart attack and failure
* Patient recommendation ratings on the Hospital Consumer Assessment of Healthcare Providers and Systems (HCAHPS) Survey
* Primary research about women's healthcare preferences
Norman Regional is one of 353 award recipients representing the hospitals that have met the highest standards for heart care in the U.S. by the Women's Choice Award.
Norman Regional is committed to providing unique and specialized care to women with its Women's Heart Program. Two female cardiologists, Archana Gautam, MD, and Katherine Hays, MD, lead the program and are dedicated to fulfilling the distinct cardiac needs of women.
"Heart disease affects both men and women. However, there are differences in how this disease presents itself in women. At Norman Regional, we are proud to offer individualized and personalized care," said Brittni McGill, Norman Regional's chief nursing officer. "To rank in the top 1% of hospitals offering heart care proves our dedication to the specific needs of female patients."
The Women's Heart Program offers a comprehensive cardiovascular risk assessment and advanced diagnostic testing.
For more information about Norman Regional's heart care services, visit NormanRegional.com/heart. For more information about the America's Best Hospitals for Heart Care, please visit https://womenschoiceaward.com/best-hospitals-for-heart-care.