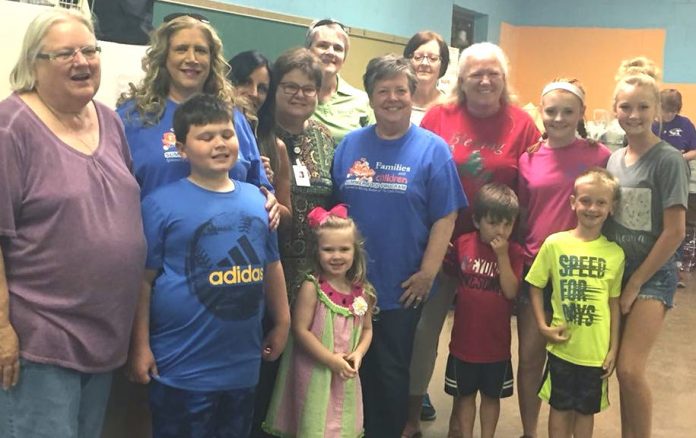 El Reno Blessing Baskets was awarded a $20,000 grant from the Sisters of Mercy to continue its mission of providing assistance and food for local families in need. The grant brings Mercy's total donation to $60,000 over the last three years.
For three decades, Mercy has supported communities by giving more than $15 million in grants to organizations that serve children, elderly, homeless and uninsured people.
Blessing Baskets has served western Canadian County since 1999 and offers three community programs: the Families with Children Summer Food Program, a school supplies program, and a Christmas program. The organization supports more than 6,000 people every year. Approximately 40 grocery items are donated to families twice a month through the summer food program.
"Mercy has been so good to us over the years and I don't know what we would do without them," said Donna Dyer, Blessing Baskets coordinator. "This grant helps us serve more people with quality food items for our families, like meats and proteins."
In addition to funding, Mercy Hospital El Reno co-workers regularly donate their time. Over the last year, 15 Mercy employees volunteered more than 160 hours with El Reno Blessing Baskets. Recently, at the Summer Food program, Mercy co-workers helped provide a homemade healthy snack for families along with the recipe and ingredients to make the snack at home.
"Like the Sisters of Mercy, we are committed to continuing Mercy's 200-year-old mission of responding to the needs in our community," said Cindy Carmichael, Mercy Hospital El Reno administrator. "It is our privilege and responsibility to help El Reno families in need and the wonderful local organizations that support them."
Blessing Baskets' grant was one of four awarded to organizations across the state. Here are the three other recipient organizations in Oklahoma:
Grace Center of Southern Oklahoma (Ardmore) – Prevents homelessness and increases self-sufficiency for all people by providing education and resource assistance in a culturally sensitive, encouraging and Christ-centered environment.
Linwood Elementary School (Oklahoma City) – Provides an action-based learning lab where students can practice academic concepts while improving their physical fitness.
Johnston County Kids (Tishomingo) – Improves the health and wellness of elementary children by providing healthy supplemental food for weekend backpacks, food for school pantries, educational programs on nutrition and personal hygiene, school supplies and support for after-school programs.