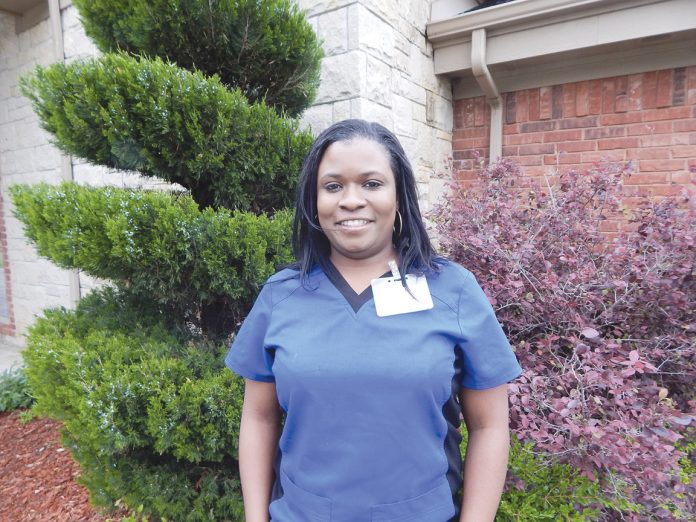 Delicious home-made food works wonders at Sienna Extended Care & Rehab
by James Coburn, Staff Writer
Tiffani Nash's (Certified Dietitian at Sienna) friendly eyes focus on cooking the tasty food she cooks for residents and patients at Sienna Extended Care & Rehab, located in Midwest City.
"I developed my heart to do what I'm doing," she said.
The food is made-to-order like full scale restaurant dining. Fourteen people are on her staff and each staff runs with four people.
"We're pretty busy, but we're like a family. Everybody helps everybody," she said.
The certified dietary manager has been working there for six years in November.
Nash entered her field from experience. She had an aunt who was a dietician, so Nash would volunteer to work in her kitchen during summer months in a nursing home.
"So when I got in the kitchen I thought I liked it. I enjoyed it," she said. "We went across neighborhoods and fed the elderly and things like that."
Today, Nash strives to listen to the residents when making meals. They have a big choice in menu selection and Nash will cook per order at their request.
"If I change menus I want their ideas. I walk around and they give me a list for the things that they like," Nash said. "They have those options to what they want to pick and choose, instead of somebody saying this is all we have today."
Residents love the chicken fried steak and barbeque ribs, for an example. Fried bologna sandwiches, fried eggs are popular requests for lunch.
A couple of residents have given her their recipes. On Sundays they have asked her to cook chicken and dumplings by giving her their recipe.
"I just have to blow it up so it can be eaten by the whole facility," she said.
She likes the compliments when residents tell her the food tastes good, and that they can tell when she is following their recipe, Nash said.
"We're making sure our meals come out hot and what they want. If they have any complaints they can bring it to me and they know I'll address it right then," Nash said.
She will cook for residents and patients on particular diets such as those recommended for diabetes care.
"I try to meet their needs. I'll go to the store myself and purchase the items and prepare it for them," Nash said.
Tiffanie Bryant, LPN, charge nurse said she likes that the food is not prepared with a designated menu for the day. She has been a nurse for 17 years, most of that time in Alabama. For the first seven to eight years she worked with veterans and has since focused her career on geriatric care.
"It's more familiar. My grandmother raised me. So I've been around that population mostly," Bryant said, "It's just more familiar to me."
Sienna Extended Care & Rehab provides a family feeling for Bryant. Everyone wanted to make sure she was comfortable and has what she needs when she came to Midwest City center.
"It's one of the more beautiful facilities I've ever been to," Bryant said. "It's like this every day. It's clean. I even think about the dietary. It's almost like a restaurant style. I see that a lot – to where residents actually get a choice. The overall experience for the patient makes it appealing."
It is what the patient wants, Bryant said. One of the patients loves Nash's fried eggs, Bryant said. They don't have to get fried eggs only on a Sunday.
"She makes it to where they are satisfied and that's a big deal," Bryant said. "Especially that nutrition is part of their care. What a patient eats or when a patient doesn't eat, you realize it affects everything. It is a big deal when they can have what they want. It makes it easier for them to eat it all. It's a big issue."
Her goal as a nurse is to help prevent a resident or patient from declining do to their nutritional needs. Malnutrition makes people tired. They don't have the energy to get out of bed to do therapy. It can snow ball, Bryant said. There immune system weakens if they are not getting the nutrition they need.
"It's a better dining experience because I know I had one who didn't want to get up, and now she gets up, gets dressed, and she's going down to the dining room," Bryant said. "It motivates them to go eat with their friends."
All the deserts are made by scratch in the kitchen, Nash said. Peach cobbler, cream pies, Almond Joy cakes.