by James Coburn – staff writer
God opened the door for Adella Owen's nursing career at Wolfe Living Center, she said. She leads infection control at Wolfe Living Center where she has worked for nine months.
Her family life ushered in the need for a new chapter in life. She needed more flexibility in her nursing career.
"It ended up being a God-send so I could make sure I could see my grandkids and my kids," she said. "I never thought I'd work in a nursing home."
She had visited the Harrah nursing home as the director of nursing at a local hospice. She knew what the place was like, and that it was different, she said. She knew that it was small and very personable. So, seeing an advertisement for an infection control nurse was enough to lure her to check out the possibility of working there. (story continues below)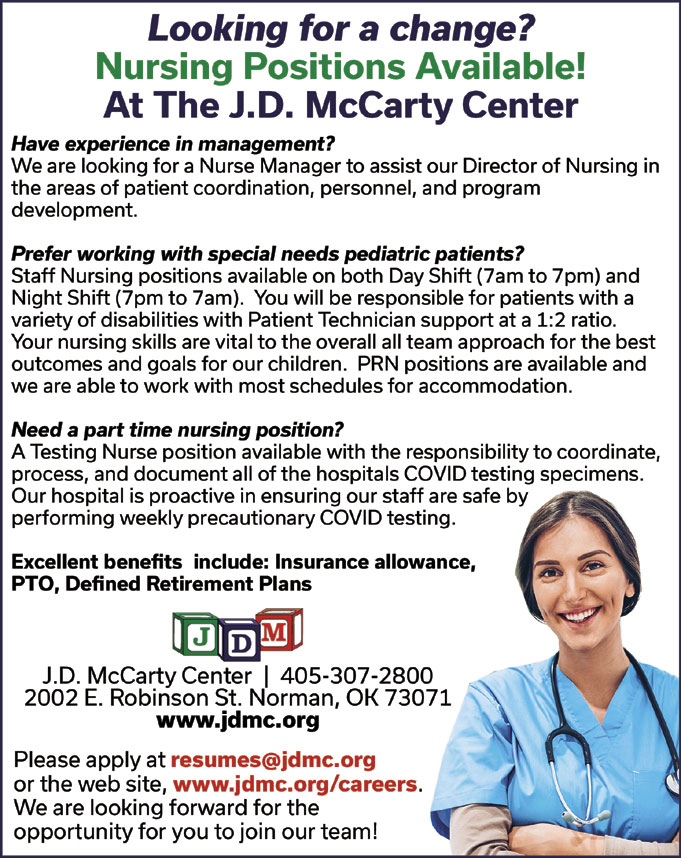 "I've always been attracted to smaller hospitals and smaller companies because I like that family like atmosphere, not just with employees but also with your patients and residents," Owen said. "That's what I love about being here — it's small. Right now, we have under 40 in here, so you really know them."
A compassionate nursing staff at Wolfe Living Center instills patient-centered care. Their dedication comes from a desire to make Wolfe Living Center a safe and enriching place to live, Owen said.
"I told somebody I feel like if we fixed one thing it would be the best facility in the world. And, someone said, 'What would that be?' And I said, to see everything through their eyes. And if so, we would fix all the problems. That's what it's about — it's about making this the best place for them."
Owen grew up invested in the role of a caregiver. Kindness directed her to make a difference in the health of others. She worked part-time for the City of Chandler's police department when her husband had a massive heart attack at age 37. Her life changed. Owen needed a full-time job to support her children.
The city manager offered her a job at the town's water plant. No female had ever worked there before, and it was a very hard job. But Owen was up to the task of digging ditches.
"It gave me an opportunity. I read meters and got in the ditch with the guys and did whatever I had to do," she said. "But I always felt I was called to the medical field."
Owen told the city manager she needed to go back to school. It was then that her offered to send her to school to be a paramedic. He didn't want to lose a good employee. And so, Owen worked for the City of Chandler's fire department before beginning her nursing career journey. Owen became a licensed practical nurse before advancing her career as a registered nurse in 2007 at Seminole State. Before coming to Wolfe Living Center, she worked in hospital emergency rooms, and held administrative roles in hospice.
"I started researching what nursing paid," she said.
She loved living in Chandler and began working in the emergency department of a hospital in Stroud. A nursing career has become a hard choice to make, she said.
"There weren't all the obstacles that there is now that you have to look at when everything has changed," Owen said. "I still wouldn't trade it. I've been very blessed. God has been very good to me in allowing me to have this job. There's nothing more rewarding than when that resident looks at you in a way of saying thank you in a way that you can't even describe."
Patients living with co-morbidities can sometimes be seen moving their shoulders to the rhythm of Owen's dancing. It's her way of making them smile.
"None of us would want to leave our homes and go away to a nursing home," she explained. "I try to look at it through their eyes. It doesn't matter if we're the best place in the world — I don't want to stay in the best place in the world and leave my home forever. And so, it's trying to make it where this is truly home for them."
Owen had a good education in life while working with seriously ill kids at Children's Hospital at OU Medical Center in Oklahoma City.
"To look at them and the things they are going through, and the things they're having to endure. And they're running around smiling and they're laughing and just going on with life," she said. "If we all just looked at life that way, and know things aren't always good and not always as they should be — but they find a joy — they find something happy. I know God has done that for me at this point in my life. He's my peace, he's my joy."
For more information visit: https://www.wolfelivingcenter.com or call 405) 454-1400.