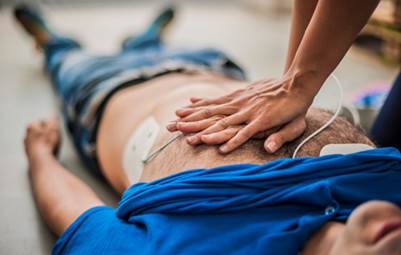 Hobart Schools will now be able to implement a CPR in Schools program to train students in CPR skills thanks to a generous donation from INTEGRIS Heart Hospital. The donation made it possible for the school to be presented an American Heart Association (AHA) CPR in Schools® training kit on the teacher professional day on January 21, 2019.
"CPR, especially if performed immediately, can double or triple a cardiac arrest victim's chance of survival," said Randy Ashcraft, vice president with INTEGRIS Heart Hospital. "We are extremely excited to partner with your school to start training students in the lifesaving skill."
More than 326,000 people experience cardiac arrest outside of a hospital each year. About 90 percent of those victims die, often because bystanders don't know how to start CPR or are afraid they'll do something wrong.
"Schools are integral parts of our communities and teaching life-saving CPR will help increase bystander CPR across all communities and in turn empower more people to act in an emergency and help save a life," said Terrie Gibson, M.D., a cardiologist with INTEGRIS Heart Hospital. "Teaching students CPR before they graduate will put qualified lifesavers in community, year after year, and we are thrilled to be part of those efforts."
Oklahoma requires CPR training prior to high school graduation. The CPR in Schools bill (HB 1378) was signed into law in May of 2014 making Oklahoma the 16th state to implement the graduation requirement.
INTEGRIS Heart Hospital has also donated kits to Antlers, Atoka, Coalgate and Hugo schools.