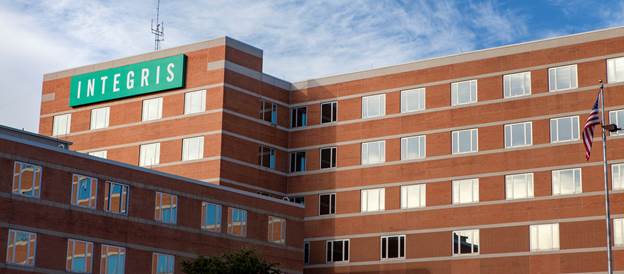 The American College of Cardiology has recognized INTEGRIS Deaconess, a campus of INTEGRIS Baptist Medical Center, for its demonstrated expertise and commitment in treating patients with chest pain and those who come to the cardiac cath lab for care.
The hospital was awarded both the Chest Pain Center Accreditation with Primary PCI and Resuscitation, as well as the Cardiac Cath Lab Accreditation in 2017. INTEGRIS Deaconess is the only health care system in Oklahoma and one of only six in the nation to receive these dual accreditations.
The first distinction is based on rigorous on-site evaluation of the staff's ability to evaluate, diagnose and treat patients who may be experiencing a heart attack. Percutaneous coronary intervention (PCI) is also known as coronary angioplasty. It is a non-surgical procedure that opens narrowed or blocked coronary arteries with a balloon to relieve symptoms of heart disease or reduce heart damage during or after a heart attack.
Hospitals receiving the second distinction have proven exceptional competency in treating patients who require cardiac catheterization. They ensure that care in the procedure room for sedation, infection control, radiation safety, universal protocol and time out procedures is fully coordinated. And, they have mastered the appropriate transfer to a cath recovery unit to better monitor and track complications, enhance physician-to-patient communication, patient family communication, discharge instructions and follow-up information.
Facilities that achieve these accreditations meet or exceed an array of stringent criteria and have organized a team of doctors, nurses, clinicians and other administrative staff that earnestly support the efforts leading to improved patient outcomes.