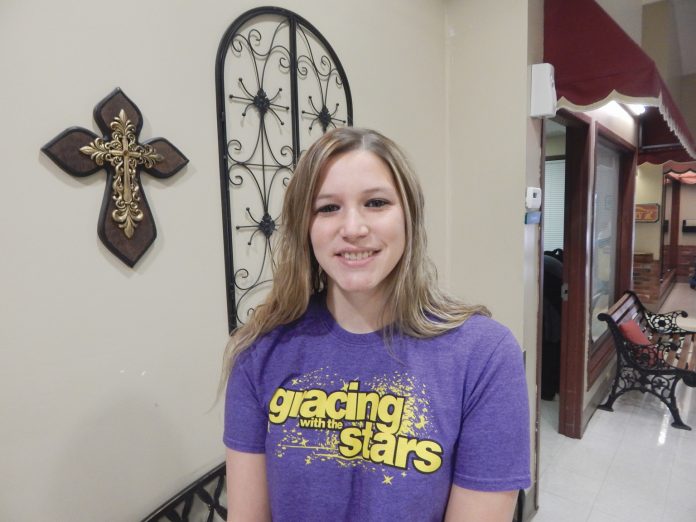 by James Coburn
Staff Writer
Jessica Thole, RN, Grace Living Center Edmond, says she has alway had a heart for the elderly. She grew up staying at her great-grandmother's house every weekend in an independent living center.
"I'd stay the night at her house and I'd go downstairs and play cards with her and all of her friends. I just fell in love with the elderly and knew that was exactly what I wanted to do," Thole said. "I never really wanted to work in a hospital or any other field. I knew exactly what I wanted."
She knew she wanted to do something in the medical field. At a young age she considered becoming a physician, but quickly recognized her calling to have a nursing career.
Her first job came 11 years ago when she was a dietary aide in a nursing home at age 16.
"Probably between 13 and 16 I might have seen the other nurses and wished I could do more for residents," she said. "I still enjoy giving them their drinks and dinner, and being able to talk to them in the dining room, but I always wish to do more."
She has been with Grace for almost two years. She and her husband moved to Oklahoma from Kansas in 2015 as a career move for her husband.
"I was new to the area when I came here. Grace seemed to be the best rated in the area," she said. "What I really like here is our Director of Nursing Tracey Brian. She is amazing. She's caring and gets to know you on a personal level."
Thole became a registered nurse in 2013 after graduating from Pratt Community College in Kansas. She had been an LPN since 2011.
"I just like to hear their stories. They are all very sweet and treat you like family if you treat them like family," Thole said. "They're fun to be around. They always make you laugh."
She said it's a fun job when she can laugh everyday with Grace residents. Residents with memory loss touch her heart, she said. Her other great grandmother lived with dementia in her later years, she continued.
"It breaks your heart at first when they don't remember you, but you can't let it get to you, and you have to make them feel as comfortable as you can," Thole said.
Treating them like family makes them more comfortable, she said. Even though they might not remember her name, they remember her face, Thole said.
"They are glad to see you even though they have dementia," Thole said.
It is important not be become frustrated as a nurse when communicating with somebody living with Alzheimer's disease. Sometimes she will gently remind them about multiple types of things.
"Sometimes you just have to play along with them and not let them get frustrated because you're trying to tell them something different than what's in their head," Thole said. "You just have to play along with them and keep the conversation going whether it's true or not."
Her goal is to have residents' families come to Grace Living Center Edmond and be happy when they see she is on the floor working to take care of their loved ones. Residents will tell her at time, "I love you," Thole said.
"They look at me when I come in and say, 'Oh, it's you today.' They are happy that I am their nurse that day. That makes me happy that I can make them happy."
Families feel confident when noticing the team spirit among the nursing staff. Working together brings progress.
"We've got a lot of good nurses here," Thole said.
Seeing a new nurse always makes Thole happy on the floor doing what is the job of a CNA, she said. They are on the floor doing full care, going above and beyond their call of duty by cleaning up a room.
Grace nurses enjoy the people they work beside and share compassion blended with fine skills, Thole said.
"I think the main thing is loving what you do," Thole said. "I think it's hard to be a nurse unless you really love what you do."
Nurses must not only take care of other but themselves, too. Thole loves her career and family life. She and her husband like to travel a lot, she said. Her dad has a lake house in Missouri.
"I love to spend time there," she said. "I love to take our dog there fishing."
The couple just got their golden retriever puppy six months ago.