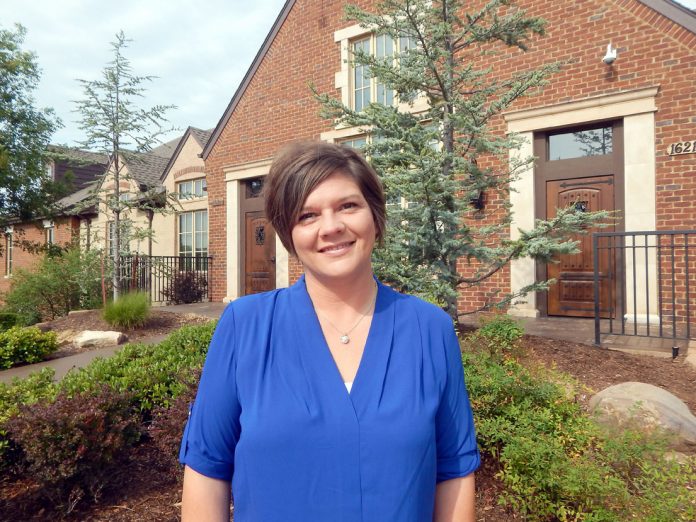 by James Coburn
Staff Writer
Brad Butts and Heather Marston work together for HealthBack Home Health of Central Oklahoma. They run five offices of the HealthBack pool from Norman all the way to the Texas border, said Butts, who serves as administrator. Marston is the supervising RN.
Butts has been with HealthBack Home Health for 13 years. When he was going to school he worked for a home health agency in Paul's Valley where he worked for five years. He entered the field of information technology when he began his career with them.
Butts has been in home health for so long that he was proficient with networking and also began helping the company with scheduling. Soon he was offered an administrator position.
"HealthBack itself, being family owned and operated by caring individuals, creates an environment that gives nurses the freedom to actually do their jobs correctly," he said. "Home health nurses need to have that compassion. It's the caring side that allows them to do their jobs and get folks feeling better."
"People like Heather make my job easy. I basically just support her."
Marston had worked in oncology and surgery prior to joining the HealthBack team five years ago. And she shines with the extra caring spirit that Butts admires in the nursing staff.
They become a family as they bond with their patients as part of the HealthBack experience. It's more than helping a patient take their pills and facilitate wound care.
"It's a connection you make with individuals. You make sure they're taken care of," Butts said. "They truly count on you because in most cases we're the only people they see."
Marston brings a depth of understanding to her profession with HealthBack. She has been a nurse for 12 years, ever since going to nursing school in Wyoming. She's from Oklahoma but lived in Wyoming for 13 years.
"Like Brad said, we're a big family," Marston said. "He's great support and the nurses that I have are great with teamwork. We're a family and that helps."
She enjoys the one-on-one interaction with patients. Being in their home makes for a special bonding relationship with the patients, she said. Nurses who work in hospitals may also form bonds but it exists within the grounds of a facility and not at the patient's home, she said.
"With home health we are in their home taking care of them. So they feel more comfortable. It's more one-on-one so I like that," Marston said.
The nurses educate their clients about the healing process and how to remain independent as much as possible in the comfort of their homes.
"That's our goal to keep them independent as long as they can and that comes with education," she continued.
Skills can be learned but compassion cannot be taught. Marston aspired to becoming a nurse when as a young mother she knew the need to provide stability for her family. She liked everything she observed about the nurses who comforted her and provided education when she had a baby.
"I just thought this is something that I would want to give back," Marston said.
HealthBack also provides the flexibility its nurses need when taking time off to care for a sick child or other family member. Being supportive makes life easier for the the nursing staff.
"Even for school functions we let them go out and we band together as a team," Marston said. "We get them where they need to be. I was huge with going to school functions so everybody else will have that right, too."
Butts said flexibility is a method of recruiting. Being family owned and operated extends that family mentality to the nurses, he said.
"We see the nurses that are coming in to work the night shift," Butts said. "We give them the opportunity to take on-call but they're still in their home. Most of the time we can work around any family schedules that pops up."
Nurses get to be with their families and see their children without missing all the baseball games and dance recitals, Butts said.
Marston and her husband like their new-found love of travel. Her nursing career enriches her life by offering her the opportunity to take care of others.
"When you're able to be able to do that and go above and beyond — I love everything," Marston said.
HealthBack works with a lot of developmentally delayed clients as well. She works with several of these individuals who have been discharged from state run facilities.
"She checks on them on a daily basis and they become part of her extended family," Butts said.