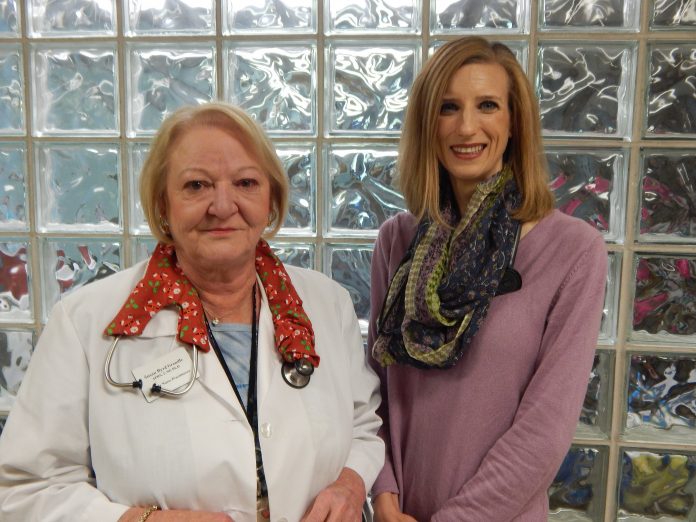 by James Coburn
Staff Writer
This is a story about two very nice nurse practitioners, Susan Byrd-Grandle,RN, and her daughter-in-law JaLyn Byrd, RN. The two women work well together.
The have a family owned and operated practice in Oklahoma City across the street from Deaconess Hospital. Family and Geriatric Medical Associates is one of a few family owned nurse practitioner practices left in the state, Grandle said.
Most practitioners work for other entities, physicians or hospitals and I own this practice," Grandle said.
Byrd earned her nurse practitioner degree at Kramer School of Nursing at Oklahoma City University in May of 2014. Grandle has been a nurse practitioner since 1995 with prescription authority. Before she earned her advanced degree at West Texas A&M University, nurse practitioners lacked this authority.
"By the time I came along, we had to have a masters degree. I was one of the first groups through," she explained. "And now of course you have to have a doctorate, so I have a Ph.D and JaLyn has a DNP, a Doctor of Nurse Practice.
"When I retire, JaLyn will take over the practice. But I have to get old enough to retire," Grandle said.
Byrd went to nursing school with the goal of becoming a licensed family nurse practitioner. She likes the idea of treating and diagnosing patients to prevent chronic disease in the community, Byrd said. She has experience in acute care as a registered nurse, a field she embarked on in 2008. She had worked at OU Medical Center in orthopedics and neurology.
"Our practice differs from physicians whereas we put a lot of focus on prevention and viewing the patient as a whole entity," Byrd said. "There are factors that enter their lives that may prevent them from following a more paternal type of plan of care."
Byrd said a nurse practitioner is not effective when their patient cannot afford insulin and does not take it.
"So we are better at looking at those types of things and trying to draw them into our plan of care, and partner with the patient to treat their chronic illnesses, prevent complications and chronic illnesses," Byrd said. "And we're real good at getting them to start early in preventing chronic illnesses. Those are some of the strengths of nurse practitioners, and our training gears us towards those things."
In order to communicate effectively, a nurse practitioner must know their patient, Grandle said. This includes knowing a patient's entire social and economic situation they face on a daily basis.
"I'll give you an example of a diabetic out of control," Grandle said. "It doesn't serve the patient, nor the provider well for you to look at it and assume their A1C (insulin) is high because they are non-compliant."
Grandle and Byrd must consider all the other risk factors involved in their patient's life. Then they must partner with the patient, Grandle said, in order for the patient to understand the severity of diabetes out of control.
"There is no return for the things we do here for the diabetic out of control in three or six months," Grandle said. "It doesn't work. It's once a week. They bring their diabetic logs, finger stick, blood sugars, what they ate. Ongoing, continuing diabetic education goes on in each of these rooms.
"Every week we modify the plan, adjust their insulin. That's when we find out they couldn't afford to buy it."
So Grandle and Byrd carefully consider community resources in order to provide insulin free of charge and also for referral purposes. Seeing a patient frequently instills in them a commitment because Grandle and Byrd are committed.
"We offer a $40 visit," Byrd said of people without insurance.
Most of the insulin is sampled from their practice and they also have access to other patient assistance programs when needed.
"We will actually help them fill out the paper work for free drugs." Grandle said. "We have access to the Community Pharmacy and the Med-Assist program."
When talking about diabetes, it is unlikely that diabetes is the only co-morbidly because of the cardiovascular risks associated with diabetes.
"Their blood pressure has to be lower than the average, healthy person. Their cholesterol has to be lower because of the risk for stroke and heart attacks. Congestive heart failure is a big one and renal failure."
They also help to manage or prevent chronic obstructive pulmonary disease, hypertension and obesity.