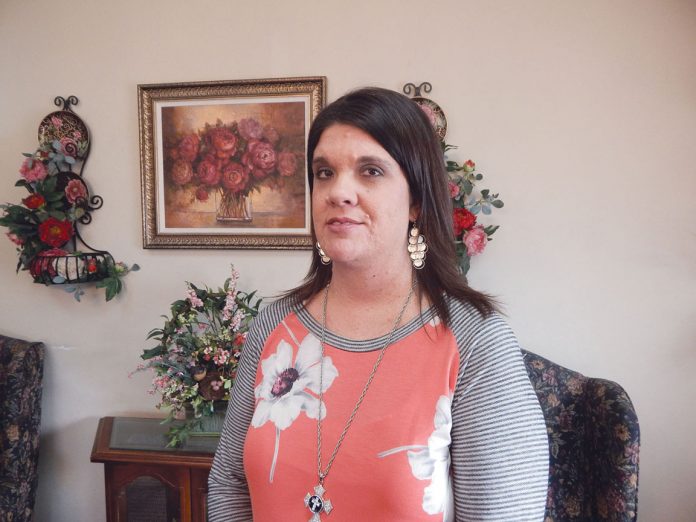 CAREERS IN NURSING
MAKING MOMENTS COUNT: LPN COUNTS HER BLESSING AS NURSE
by James Coburn – Writer/Photographer
A love for the elderly and geriatric care is what called Katie Vandiver to become a nurse, she said.
"That's where my heart is," said Vandiver, LPN, Ranchwood Nursing Center, located in Yukon.
A graduate of Canadian Valley Technology Center, Vandiver became an LPN in 2003 after starting at Ranchwood as a CNA in 1997. She has remained part of the Ranchwood team ever since. She has served there as a charge nurse and today serves as the Medicare coordinator, making sure the nursing home is following federal and state regulations for residents. Vandiver does assessments for both skilled and long-term care.
She was almost 19 years old when she became a CNA and a CMA at Ranchwood. She had just had a baby and needed to work full time.
"I like long-term care because we get to know them. It becomes where residents are not just a last name or a number or a diagnosis," she said. "They're a person and we get to build those relationships with them."
Vandiver listens to their life stories and becomes accustomed to the residents' likes and dislikes. Ranchwood has a wonderful staff, she said. The nursing staff also has a lot of longevity. Many of them began developing personal relationship skills as CNAs.
"We've all worked our way up to management positions," she continued. "Even some of our floor nurses worked here as CNAs. And we work well together. We work together as a team."
They succeed by putting the interest of the residents as their No. 1 priority. In doing so she has made lasting memories that have touched her heart. Vandiver recalled a woman admitted to the skilled unit when she was a charge nurse. One morning she found the woman eating a bowl of cereal, but picking out the raisins.
She told Vandiver, "I don't like raisins but I like bran flakes."
Vandiver remembered the conversation that night when she was shopping for groceries. She saw a box of bran flakes without raisins and purchased it.
"I brought it to her and you would have thought I gave her a new car," Vandiver said. "I mean little things like that are the things that I enjoy. I like to make a difference and feel like I am making a difference."
Every week Vandiver would bring the woman a new box of cereal. At that time of her life, the box of cereal was the woman's favorite thing in life, Vandiver said.
"So that's what is important to me. You may be here for a broken hip, but that doesn't mean you're not the same person you were before the broken hip."
Vandiver strives to treat each person as a whole human being without only treating an ailment. There was a gentleman she would see each morning in the dining room. Vandiver would bring him coffee.
"I think that brightened his whole day," she said.
It made him feel at home relaxing with a routine cup of coffee to begin his day. Vandiver said there were other people there whose role was to provide him coffee.
"But to me it's our job to take care of each person as a whole," she explained. "And if that cup of coffee is going to make him feel better, it is something for me to do."
Another one of her favorite experiences was with an elderly resident who lived at Ranchwood for a long time. Vandiver got to know her as a CMA and became a nurse. The woman was moved to a hall where Vandiver served as a charge nurse.
"She had dementia and I got really close with her and her family as well," Vandiver said. "I was able to be there with them at the end of her life and give them comfort and support."
Vandiver's support meant a lot to the woman's family. She had been there for them, staying late in the evening after her shift was over. Compassion and empathy are important for being a nurse, she said.
"Not everybody has those, but I think I was blessed with those traits," Vandiver said. "I think that is why nursing is my calling. I am able to help others with compassion and empathy I would want if it was my loved one."
One night she was sitting at Braum's with her family. There had been a gentleman who had hip surgery and she knew him from time spent in skilled nursing. He was walking with his wife to have ice cream without a cane or walker.
"That's exciting to see them rehab into the community," she said.
She keeps a box of cards and letter she has received from families. Every once in a while she pulls those out to read.
"For me those are the things that make it worth it," she said.