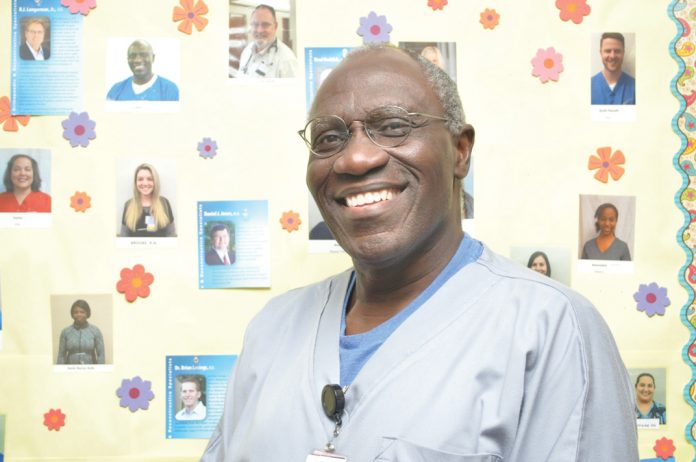 by Vickie Jenkins – Writer/Photographer
Here at Oklahoma Center for Orthopedic and Multi-Specialty Surgery (OCOM), we focus on offering a high quality, service-oriented environment for your surgical procedure. -OCOM-
At OCOM, you will find an excellent group of doctors and nurses. One particular nurse is Sunny John, RN, BSN who is the Inpatient Nurse Manager. There is something that stands out about Sunny from all the rest. With a big smile on his face and his friendly attitude to match, he said, "Sunny is my brother, I'll get him," as he laughed and told me that he was only kidding. "I'm really Sunny," as he laughed.
Born and raised in Lagos, Nigeria, West Africa, Sunny came here in 1986 and that is when he became a U.S. citizen. "I'm considered an Okie now, he said. "There is no getting away from it now."
I asked Sunny to explain why he is a nurse and why he chose nursing as his profession. "I like taking care of people. I have a lot of compassion for others and I know that whatever someone chooses to do, they have to like it. I enjoy taking care of others and it makes me feel good to know that I am helping people. I can't see myself doing anything else."
Sunny attended the University of Oklahoma for his Bachelor's degree in nursing, and also went to Texas Bible College. He has been a nurse for twenty-seven years. "My first job was at Integris hospital, then Saint Anthony's hospital and here at OCOM for seventeen years. In fact, I still work at Saint Anthony's part time in the Psych Ward," he replied.
Asking Sunny if he had any mentors in school, he told me that one of the greatest professors that he ever met was Pat Allan. "She was a great lady and she drilled these words into me, be the best nurse you can be and never forget. "I have lived up to that," he said.
What is your favorite part of your job? "When the people come in, some are crippled and in pain. After surgery, I nurse them back to life. When I see the patient smile, stand on their feet and walk out, that gives me a good feeling," Sunny replied.
How would you describe yourself? Sunny smiled, followed with a hearty laugh. "I think I am a fun guy and I love people. I like caring for others and to tell you the truth, it doesn't feel like a job because I enjoy it so much. I like to be happy and enjoy everything. I smile and laugh a lot and I think it is contagious, or so I would like to think it is. This is where I get to meet people from all walks of life; from the homeless to the well-to-do, the middle class, judges, doctors, lawyers, all different races and people from all different countries. I never judge. We are all the same and I treat everyone with the same things; love, respect and dignity," he commented.
"I'm a people person and I am going to do my best to help others and make them happy. That goes for the staff too," Sunny said. "I see all of the people here as one big happy family." Sunny is motivated by making sure his patients get back to their healthy selves. "When I receive a thank-you from one of the patients, that is all I need. I live by some encouraging words every day. Be kind to others because you reap what you sow."
Sunny is married to his beautiful wife who also happens to be a nurse. They have three grown children, two daughters, medical doctors, one living in OKC and the other one in Texas and one son who is not in the medical field. "He is an engineer. He is well taken care of if he happens to get sick, the whole family tries to take care of him, or so they try to give their opinion," Sunny laughed.
Reading, listening to Gospel music and deer hunting are some of Sunny's favorite hobbies. "I love to hunt when I have time to take a break from work," he said. "I love eating exotic meat too," he added. "I enjoy life no matter what I am doing," he said. "That's okay because I make the best of every situation."
I asked Sunny to sum up his life in a few words. Without even a pause, he said, "Oh, that's easy. " I'm a Christian Man." Sunny, it surely shows!