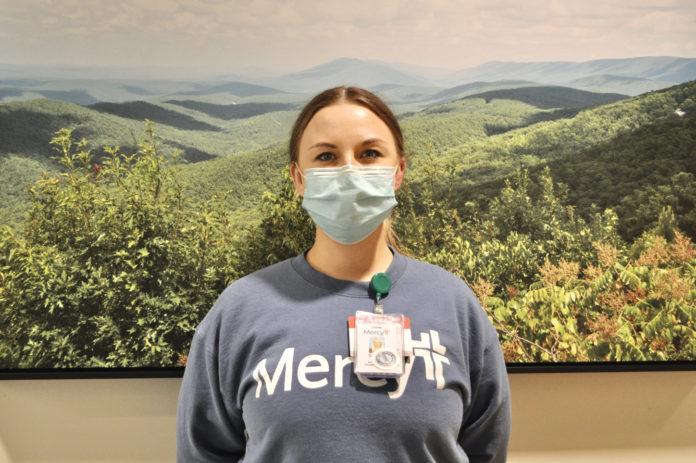 Vickie Jenkins, Staff Writer
As Oklahoma City's population grows, so does the need for convenient medical care. After nearly three years of construction and anticipation. On July 7, 2020 Mercy Hospital Oklahoma City South recently opened. The six-story, 228,000-square-foot facility includes 36 hospital beds with build-out options as patient volume grows.
Mercy Hospital Oklahoma City South is located at I-240 and Sooner Road, on the campus of Oklahoma Heart Hospital (OHH) South. The new hospital is licensed under Mercy Hospital Oklahoma City and offers ambulatory care, low trauma, inpatient care and advanced surgical capability. -Mercy South- (story continued below)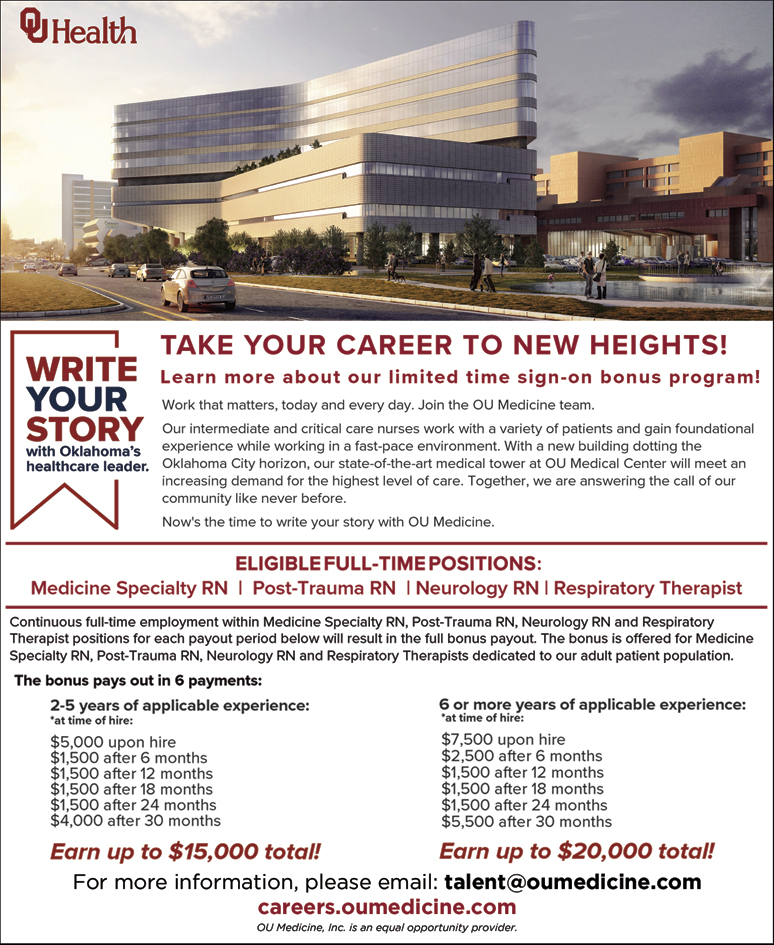 With a staff of professionals, one particular nurse at Mercy South is Chelsey Vail, RN; her friendliness and outline of a smile was showing underneath her mask. Growing up in Tulsa, Chelsey moved to Oklahoma City, attending Southern Nazarene University. "I am thankful that I was able to attend SNU. During that time, one of the mentors that encouraged me along the way was Dean Laura O'Neal. I feel like I learned so much from her." Chelsey said.
Chelsey has been a nurse for a total of five years, spending the last three years at Mercy, now working at Mercy South. Chelsey is the charge nurse and house supervisor at Mercy South. "Even though at times, the days can be challenging, I love my job and wouldn't trade it for anything," she said." Being the charge nurse has put me into the leadership position. I always try to be an example; seeing the best in everyone and help as much as I can. My typical day consists of making sure all of the nurses have their special assignments, checking on all of the appointments, procedures and labs to be done that day and making sure each nurse knows what to do. Of course, I make my rounds to see all of the patients too. Teamwork is very important and everyone here is amazing! It is not unusual to get a thank-you from a patient, long after they have gone home. I know we do our best in caring for the patients. We treat all of our patients with the utmost respect and we try to relate to the patients as much as possible. That is the biggest reward of all," Chelsey commented. "I like the fact that when a patient comes in, I know I am making a difference in someone's life. The nurses are there to care for and serve others and that's what we do."
Chelsey became a nurse because of her dad and the guardian angel that took care of him while he was at the hospital in ICU.
Asking Chelsey how she came about being a nurse, she replied. "It's kind of strange the way things happened in my life. In 2011, my dad was very sick and septic. His blood pressure and oxygen level was low. He spent quite a bit of time in ICU and my family and I thought we were going to lose him. There was one particular nurse, John, that had been with him most of the time and my dad asked him, 'Am I going to die?' John replied, 'Not on my watch!' My dad got better and to this day, my dad is still with us. My family and I considered John as my dad's guardian angel. It was after that, I KNEW I wanted to be a nurse and be a guardian angel for someone; I believe guardian angels are everywhere!"
What qualities make a good nurse? "I think the most important three qualities a nurse should have: integrity, trustworthy, and respect. Each nurse should have each one of these and practice them each day."
On a personal note, Chelsey is married to her wonderful husband, Kyle. They are excited to welcome a new baby boy in January 2021. "We are so excited and can't wait until the day of his arrival," Chelsey said. How has the Coronavirus affected you? "Working in a hospital, I have to be careful, especially since I am pregnant. I uses every precaution I can. I make sure to wash my hands constantly and sanitize any and everything. I know it's rough sometimes but it's something all of us have to do. Of course, I practice the social distancing at the hospital and everywhere I go."
Summing up Chelsey's life in three words? "That would be, "friendly, outgoing and kind," Chelsey replied.