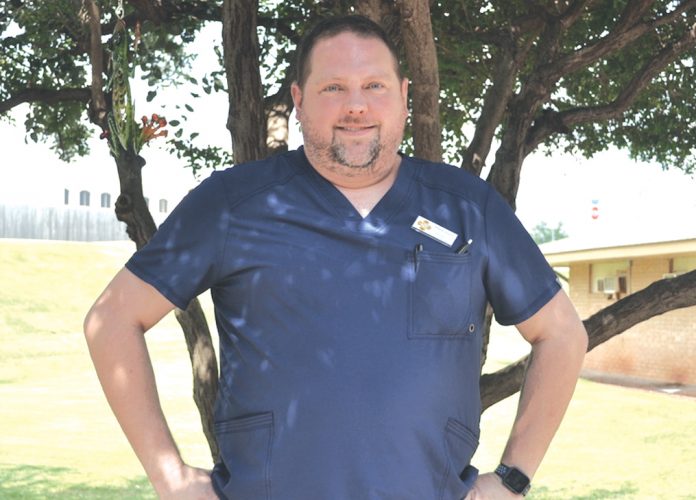 By Vickie Jenkins, Staff Writer
As though hidden away in the neighborhood, you will find Northwest Nursing Center, located at 2801 NW 61. Finding a professional staff, one particular nurse is Shane Guinn, ADON RN. A facility offering skilled nursing and rehabilitative care at it's finest, along with traditional long-term care services.
Growing up in Plano, Texas, Shane knew what he wanted to be when he grew up. He wanted to be a Marine Biologist so he could study crazy organisms found in the deep sea. "I don't know what I was thinking because I really didn't like the thought of being down in the water with sharks," he said with a laugh. "Apparently, my plans changed as I got older, but my first career was in IT." He left that job to pursue his career in the medical field. "I wanted to become a nurse for three reasons; I wanted a job that would actually make a difference in lives of other people, my mother was a nurse and I saw first hand how it made her feel more confident and last, but not least, I knew I would always have job security," Shane explained. (story continues below)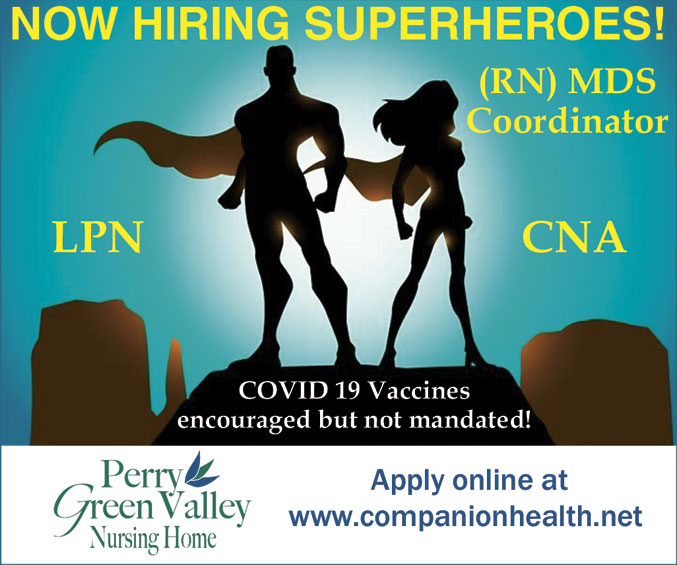 Shane eventually moved to Oklahoma and received his degree in Nursing at Oklahoma City Community College. He has been a nurse for ten years where his first job was working at Mercy Hospital in Neuro ICU. "I've only been at Northwest Nursing Center for a short while but things are going great right now," he commented. "I'm hoping that all continues," he added.
As a nurse, Shane is an independent thinker and is able to solve problems on the fly. He has compassion for the patients but also knows the value of setting boundaries with them when needed. These are all good qualities of a nurse.
Asking Shane what his biggest reward is that he receives from being a nurse, he replied, "The biggest reward for me is knowing that everything I do is helping to make a difference in the lives of my patients. Either being able to help them directly or by finding the help they need," he said. "One of the reasons that I wanted to pursue a career in the medical field," he added.
According to Shane's co-workers, he is considered an easy going person with a great sense of humor. "I am always willing to help out where I can. I like to see everyone happy so I like to think I am a little part of that," Shane said with a smile. According to Shane, he is a shy person at first and then he really opens up.
Since Shane grew up with a mother that was a nurse, (and still is) she had the most influence on him with his career change. "I consider myself a follower and I would like to think I am following in her footsteps as a nurse," Shane commented.
Shane's typical day at work keeps him hoppin'. "I usually see about fifty-two patients a month. When I get to work, I care for the patients, taking care of each individual, along with putting out a few fires," he smiled. "Those fires don't happen too often. That's when I usually realize how hungry I am and that I haven't eaten breakfast," he said with a laugh. "I get something to eat and continue my work, caring for the patients and then I go home. Doesn't that sound like the typical day in the life of a nurse?" He asked. "Once I go home, I am all about relaxing even though it's hard to do, I try to leave my work at work. Home is for relaxing!"
What advice would you give to someone going into the medical field? "I would say that boundaries are very important. Set your boundaries with both, the patients and your peers. Don't let things get to you. You will get through it!"
Always thinking of helping someone in time of need, Shane has been an example to others. When Shane attended high school, he volunteered his time, helping children with physical and mental disabilities with their physical therapy on horseback. "I love helping anytime I can," Shane said.
How did the Coronavirus change your life? "It was rough for me to stay home a big portion of the time but like others, I stayed away from older relatives to help keep them safe," Shane replied.
Summing up his life in three words, he answered, "Quiet, friendly and helpful."
For more information call (405) 842-6601.