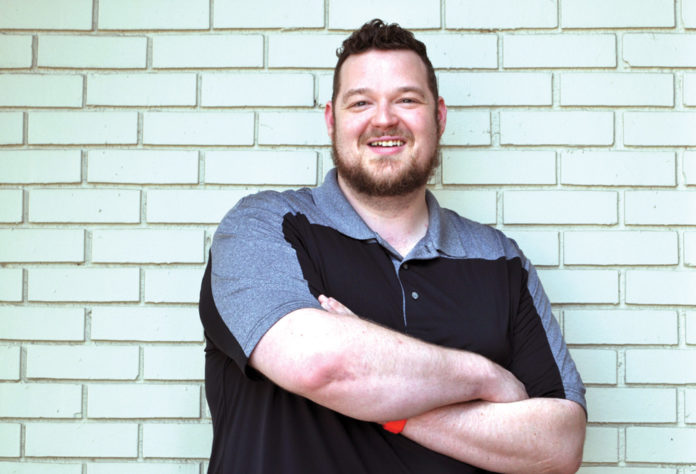 by Vickie Jenkins – Writer/Photographer
Cedar Ridge Behavioral Hospital at Bethany is specialized care for older adults. If an older adult in your life is struggling with a mental health crisis, Cedar Ridge Behavioral Hospital at Bethany can help. They accept adults ages 18 and above and geriatric patients 55 and above.
Cedar Ridge Behavioral is one hospital with two campuses. These two locations provide services for most of the metro. Adults and geriatric patients are seen in Bethany on NW 23rd between Rockwell and Council. The other campus located at NE 50th and Sooner Rd is where children and adolescents receive services.
The staff includes, psychiatrist, psychologists, registered nurses and master's-level health professionals dedicated to helping patients recover. They offer individual, group and family therapy to help patients effectively deal with issues that may come with aging.
Among the staff is an individual whose titles are Mobile Assessments and Provider Relations Coordinator. Just a few qualities pertaining to the titles of Mobile Assessments and Provider Relations Coordinator include: excellent communication with patients and residents, detail oriented, flexibility, patience, and having a good understanding of the patient's needs, along with being a self starter. When you put all of these traits together, you get a person who excels in his work – that person is Bradley Horn, LPC. Driven to go the extra mile, Bradley has many responsibilities and gives 100% in everything he does, while making certain the focus is on the patient.
Bradley has always set his goal high, not wanting to settle for just anything. With a major in Biology, he began to work closely with physicians and nurses developing his own set of unique skills through his experiences, continuing on as Mental Health Therapist.
"I had one particular mentor in school," he said. "That was Dr. Trisha Yarbrough. She was great giving me advice, helping to point me in the right direction in following my career path," Bradley commented. "I always wanted to gain experience wherever I went. I sought a field of counseling and I'm glad that I did."
"One of my roles is Mobile Assessor in the state of Oklahoma for the extended Oklahoma City Metropolitan area. I do mental health assessments for adults and older adults," Bradley said. Assessments take place in doctor's offices, counselor's offices, as well as the nursing facilities such as; assisted living and independent living facilities.
Bradley likes doing assessments for counseling in patients/residents' facilities. "That way, it is a one-on-one connection. The results are amazing. I like to see how people grow and flourish," he stated. Bradley conducts assessment in nursing homes and assisted living facilities with patients who are struggling with mental health crisis to determine weather the program would be a good fit for them and their current needs.
"I am also known as Provider Relations Coordinator, which makes me the connecting piece, along with giving me hands on experience. It helps the patients and their families, handling any questions that they might have through the process from referral to discharge."
"I was born in Durant, Oklahoma and raised in rural Atoka County. When I was growing up, I lived next door do to my granddad in a rural community. My great granddad was just down the road. We were very close and it was natural to spend time with the older crowd. That is why I seem to relate, connect and engage with older people so well. It seems so natural for me to take care of these adults. I guess I owe a lot of that to my upbringing," Bradley stated.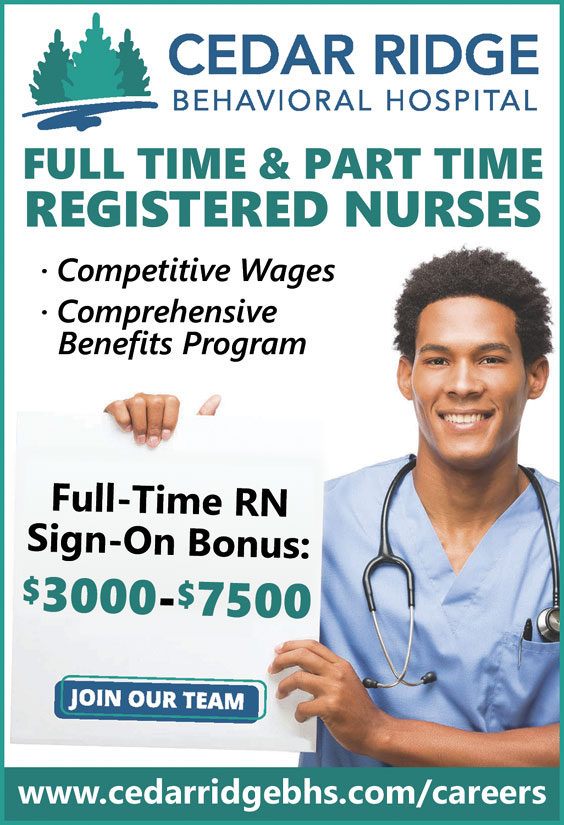 Cedar Ridge Behavioral Hospital

FULL TIME & PART TIME REGISTERED NURSES
· Competitive Wages
· Comprehensive Benefits Program
Full-Time RN Sign-On Bonus: $3000-$7500 
JOIN OUR TEAM