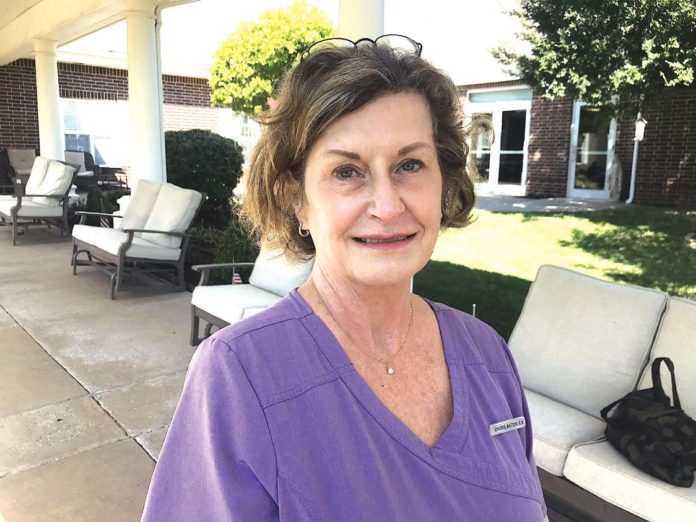 by James Coburn – staff writer
The most endearing aspect Cynthia Watson feels about Saint Ann Retirement Center is its staff and residents, she said.
"It's what I like to call their generosity of spirit," said Watson, a registered nurse at Saint Ann Retirement Center. "The staff cares for the residents, the residents care for the staff, and it's just something unique that I have not experienced before — that generosity of spirit."
Saint Ann Retirement Center offers independent living, assisted living and a convent in Oklahoma City. The not-for-profit is owned and operated by the Catholic Archdiocese of Oklahoma City. There is no buy-in and all faiths are welcome, Watson said.
Across the street is St. Ann's Skilled Nursing & Therapy which the Catholic Archdiocese no longer owns. (story continues below)
Watson serves as a consultant working two to three days a week at Saint Ann Retirement Center and will celebrate 50 years of service this coming May as an RN. She graduated from the second nursing school class of Oklahoma State University.
Nursing is such a flexible career, she said. Watson's nursing experience includes work in hospitals, research and oncology. It was during her work in home health and hospice that introduced her to long-term care and the elderly population. Watson has been fortunate to serve in three senior living communities during her career.
"I admire her professionalism. She's calm and soothing and yet she's really clever," said Joyce Clark, executive director. "She knows the business — she knows regulations — she's very efficient. She's productive and good with the staff."
The culture at Saint Ann Retirement Center is like no other Clark has witnessed. It excels by being fun, friendly and supportive, Clark said. Watson loves the inspiring stories the residents share with her. One resident is a first cousin to Johnny Cash. They all have something special about them. One of the ladies retired from nursing at age 90.
"If you sit down and listen to her stories, they've all got something magical. Unless you spent the time with them to find out, you'd never know," Watson said.
Assisted living is not long-term care. The residents are ambulatory and may need a little assistance with bathing and dressing. If they've had a sick period, they may need help walking or being assisted to the dining room and other activities.
One of the gentlemen has difficulty hearing. He had lived independently but grew to need the support of assisted living. After about two weeks he took up the sport of chair volleyball. There is a volleyball tournament each week between the assisted living and independent living residents.
"And this guy was a ringer. They said, 'Oh my God, we've got to have you on our team,'" Watson continued.
She was able to take a picture of him participating in the game by tossing a bean bag, and she sent it to the man's daughter.
"You could tell it just lifted her spirit to know he is assimilating even with the handicap of not being able to hear well," Watson said. "It gets to you — it really does."
Watson said the nursing staff values knowing and caring for each resident.
"We've got some really great longevity with staff here," she said.
Whenever a resident mentions to any staff member that their stomach hurts or they have some other ailment, the nursing staff is informed and they follow-up.
"They want someone to know, so if there is something, we can deal with it," she said. "I mean it is a true spirit that they care."
Nurses have their own stories to share, and Watson is no exception. She comes from a family of nurses. Her mother, aunt, cousin and grandmother were all nurses.
"So, I thought, 'Well, I'm meant to be a nurse,'" Watson explained.
She loved helping others and decided between veterinary school and nursing school. Nursing school was a more expedient path and she loved it. Her career has enriched her life ever since.
"In caring for people during the final years of their lives, the comfort and the validation that you can provide to them and the unbelievable gift that they give to you — to be able to share those days and weeks and hours is just immeasurable," Watson said.
Watson invites people to visit Saint Ann Retirement Center and feel the difference.
Today, she and her husband play golf and enjoy cooking together. Their short and smaller breed pit bull terrier recently graduated from a good citizenship school for dogs.
"He will be going to therapy dog school and hopefully be going to places like this and bring a smile to people," she said.
For more information about Saint Ann Retirement Center visit: www.saintannretirementcenter.com or visit them at 7501 W. Britton Rd Oklahoma City, OK 73132.