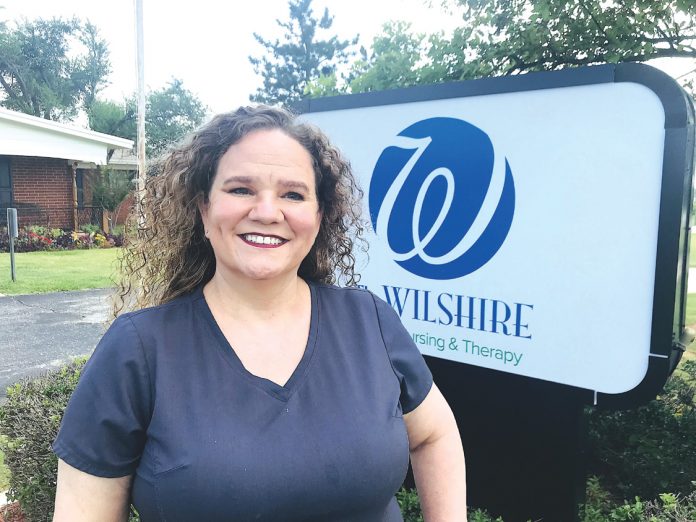 by James Coburn – staff writer
Carla Hicks is known for her flexibility as an LPN at The Wilshire Skilled Nursing and Therapy, a skilled nursing facility with 56 certified beds in Oklahoma City. She has accepted opportunities and as a result, the residents have benefited from her helping hand.
Wilshire has always given her the opportunity for new challenges. She began there as a part-time floor nurse and transitioned to MDS coordinator and now wound care. Wound care requires a diligent observation on a daily basis. (story continues below)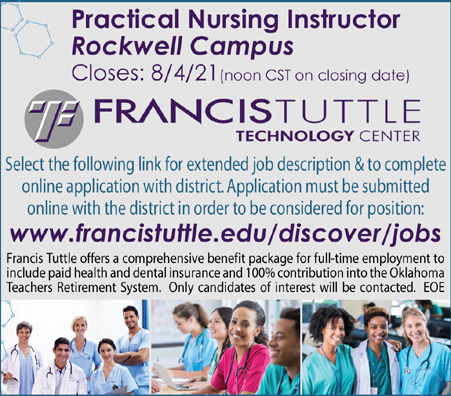 "I just keep learning new thing all the time," she said. "I have also done home health and hospice. And I've also done work with addiction recovery in a methadone clinic. I like to learn new things. So, I've experienced a lot of different areas of nursing."
As a result, she brought a diverse set of skills to her profession, and now a new learning experience. The pandemic came as a shock to the public at large. Nurses galvanized their strength to work together for the common good. The nursing staff has been steadfast through the entire pandemic, she said.
Consistency of care is one of the best practices the staff does not let lapse at Wilshire. Nurses and CNAs are well seasoned in their longevity of care. In-turn, the residents enjoy familiar faces and know there is a compassionate voice they can call whenever there is a need. They appear to miss her after she has been gone for couple of days.
"Some of them will ask where you've been, did you have some days off or go on vacation, just depending how long you were gone," Hicks said. "And they get excited when you walk into their room."
Friendships have grown between the nursing staff and residents who have come to be like family. Hicks said she stays busy during her 40-plus hours and often spends more time with the residents than with her own family.
A one of the kind residents likes to shake visitors' hands at the door. He's known as the door greeter. The staff endeavors to let everyone settle comfortably in their own place in life.
"To work here as an LPN — we have trained brand new LPNs and RNs — so the qualities needed are a willingness to learn and an ability to learn. Being a team player is important and there's plenty to learn here," Hicks continued.
Prospective nurses can take her advice that long-term care and skilled nursing can be busy, fun, happy and sad, she said. Student nurses need to be ready.
Hicks earned her nursing license in 2007 at Platt College and has been with Wilshire for nearly six years. Nurses soon learn how to navigate with the residents — how to keep everybody happy and smiling and live the best life they can have.
"The patients are great," she said. Restoring one's health to their personal best is a gift. But Hicks said patients give her a gift with their attitudes or wisdom of their years.
"I am happy when people get to go home to their lives and back to as much as their normal life before is possible," she said of temporary stays in the skilled nursing unit.
Some residents have found their new home at Wilshire, and understandably may not be accustomed to an unfamiliar environment when they first arrive.
That's when the staff does their best to make them feel at home by asking them what they need. At times the new resident is not comfortable telling someone what they want. So, the nursing staff helps re-orient the resident to a trusted environment where they can maintain their individuality with a sense of freedom.
"We'll ask them if there is a certain time when they would like to do certain things, if they want to shower at this time — what time would they want to get up," Hicks said. "They participate in their care as much as possible."
Maintaining heart-felt personal experiences is part of her circle of care for her own revitalization.
"I like to go for walks. It's also getting a pedicure every now and then," she said. "I have my animals that I care for and hang out with."
She has two dogs and an assortment of exotic birds. Sometimes her macaw will call the dogs.
"My macaw talks a lot and calls the two dogs over," she said. "My big dog has looked at him a few times when he did it, but my biggest dog is scarred of him."
10-year-old Lucy comes to work with Hicks and acts as the little gray mascot of The Wilshire Skilled Nursing and Therapy.
"Lucy just makes everybody happy," she said. "She visits the residents. She will just roll over and let them rub her belly," Hicks said.
For more information call (405) 478-0531.