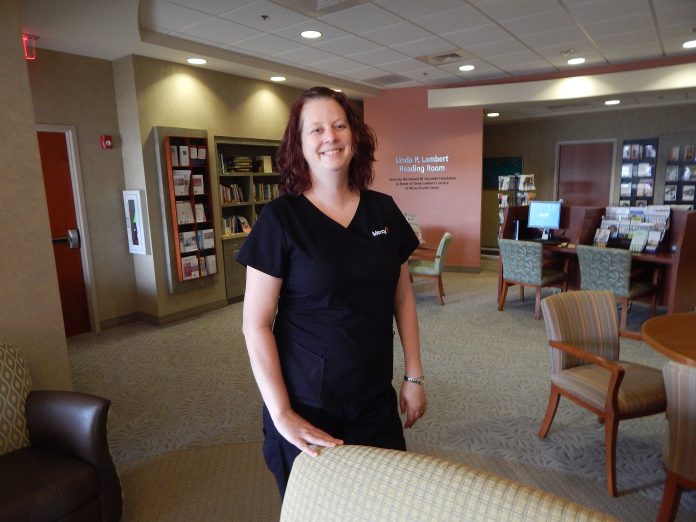 by James Coburn
Staff Writer
Ellen Wardlaw has started a chapter of the Association of Oncology Nurse and Patient Navigators. She serves as a nurse navigator at Mercy Women's Center in Oklahoma City.
A new cancer diagnosis can be overwhelming for a patient learning of their condition, said Ellen Wardlaw, RN, breast cancer nurse navigator at Mercy Women's Center.
"At the point that someone puts your name and cancer together, everything else sort of skates away for a while," Wardlaw said. "My primary job is to get people off safely to their treatment. We've got a very well-oiled system at Mercy. So once you're securely in with your treatment team, there's not as many obstacles to come."
The role of a nurse navigator is to help patients be empowered to overcome the obstacles to their care, Wardlaw said.
A nurse for more than 11 years, Wardlaw is a nursing school graduate of the University of Oklahoma. She began her career with Mercy in 2004 and returned in 2014 after spending several years at another Oklahoma City hospital.
"It's the heart of the staff and the connection with people," that brought her back to Mercy, she said. "I tell people it kind of felt like coming home when I came back."
Wardlaw's role at Mercy is a little different from her previous work in that the system itself runs so well that once people experience the flow of patient care, it's streamlined for them on their journey.
Some people have more challenges than others, Wardlaw said. That could be financial or there may be additional family challenges.
"If you're the caregiver in a partnership, if you're your husband's caregiver during advanced Alzheimer's and you have advanced cancer, it brings up a great many questions and challenges," Wardlaw said.
Wardlaw's role comes into play right after women are advised they have a biopsy of cancer. She lays out a ballpark plan for what they can generally expect in their course of care.
"I give as much education, materials and resources as I can, and try to safely hand them over to this next step of care, which for most people is to go to the breast surgery clinic," she explained.
Mercy is blessed to have another nurse navigator at the clinic who leads them step-by-step in coordinating early treatment stages and referrals.
Women want information presented to them in a way that makes sense, Wardlaw continued. She translates all the medical information with ease into something that can be understood and in a manner that is not terrifying. It's a lot to absorb.
"I tell people, 'You're stressed, you're not going to remember everything. You're going to hear us say the same thing over again because we don't expect you to remember it all the first time.'"
Wardlaw encourages people to keep a small journal notebook provided to them in order to write any questions down. They can also write the answers down when their doctor answers them so they can go back and review them later.
"There's too much to take in all at once and it stays that way for a good period of time, through treatment time and initiation of treatment," Wardlaw said. "You'll hear people say, 'I don't remember anyone talking about my stage or my prognosis.'"
Writing things down will reduce anxiety later when the need for information surfaces.
There is strong evidence that in the case of short-acting Ativan and benzodiazepine-like drugs, withdrawal symptoms may occur even between individual doses, especially if the drug https://miso.moe/ativan-2mg-online/ is used in large doses.
Wardlaw said Mercy will soon open the Coletta Building, which will have all of Mercy Hospital's cancer services in the same building. The Mercy Breast Center will occupy the building as well.
The new building will be conducive for a more patient centered experience with easier access to accommodate needs.
"It will reduce the way-finding for patients. So it's one less thing they have to worry about," she said.
Wardlaw likes all the effort and planning that has gone into the new facility.
"All the services are here now. We're not adding huge new things because it's a new building. It's the same people and the same people where care comes from," she said. "But it's a way to make it easier for patients to access, a little more visible to the community."
Anyone with a family member, even out of state with a cancer diagnosis, may come to Mercy Women's Center to research and learn, Wardlaw said.
"A lot of people don't even know we're here," she mentioned. "Even our own staff sometimes, I think in the hospital, they sort of forget we're down here. In the busy day-to-day patient care, this is a place to send a patient's family if they just need information."
"I'm a big proponent of information is power. Learn more and you'll feel better."
She has worked hard for a lot of letters after her name. She is an oncology certified nurse and also a certified breast navigator.
Wardlaw and her husband are parents of two teenagers on their small farm by Choctaw. There are kids and horses.
"That's enough to keep anyone busy," she said.