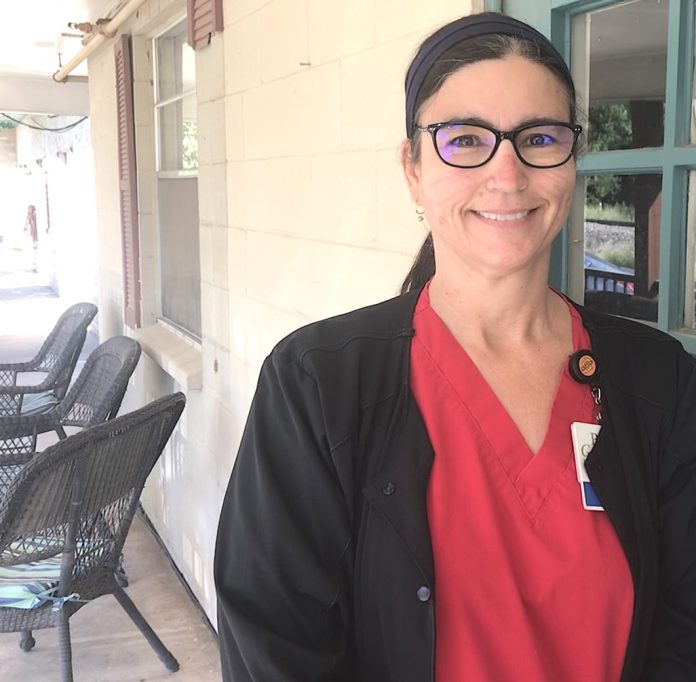 by James Coburn – staff writer
Jody Sim is no stranger to Perry, Okla. This friendly familiar face is a registered nurse the director of nurses at Perry Green Valley Nursing Home.
Many of the nursing home residents have known her since she was a girl growing up in Perry. Today, Sim has been has served Perry Green Valley residents for 17 years. They have been mutual church goers, neighbors and friends.
"I remember the first time I took care of a lady I worked with," Sim said. "I was 15 years old at a little nursing home in town working as a dishwasher. And I remember the cook, she was a German lady and she taught me how to do my prep work. Then years later when I was a nurse here, she came in as a patient." (story continues below)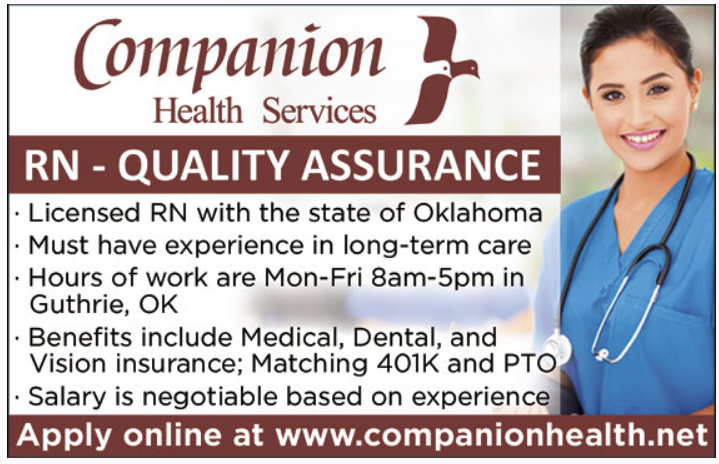 This experience turned full-circle for Sim when the older German lady found comfort in Sim's familiar presence.
"And, so I put her family's mind at ease, and I put her mind at ease because I was here for her. We had known each other for so long."
Sim said it was surreal knowing someone who had taught her something years before was also a friend she was caring for.
"So, I was very proud," Sim said.
Her moments at Perry Green Valley are heartfelt. Sim recalls a nurse leaving from her shift that had ended at 10 p.m.
A resident at the time was dying without any family members present. She had no family, Sim said.
"So that nurse was there that whole night while she passed away," Sim recalled with her eyes welling up. "It was really neat. She wasn't on the clock — she didn't have to. She did it because she knew that lady had no family."
A lot happens with the residents that makes Sim happy at Perry Green Valley.
"I like it when they reach out to each other as a group," she said. "They reach out and want to know how this one is doing."
HIPPA laws prevent the nursing staff from revealing aspects of one's health, but they can say, "Let's walk down there together," Sim said.
Residents can feel close to people in a home nestled among woodlands with both shade and sunlight. Sim wouldn't have the family-like setting any other way.
Sim has focused on geriatric nursing during all her career, except for four years at Stillwater Medical Center. Her mother is a retired licensed practical nurse who now serves part-time as a ward clerk at Perry Green Valley.
"It's always just been in my blood. I ran around in nursing homes as a kid," she said. "My mom was a charge nurse in the nursing homes. It's something I always wanted to do that I was comfortable doing."
She earned her LPN license in 1996, and in 2000 earned her nursing degree at Northern Oklahoma College. When she was in high school there was a smaller nursing home in town where she worked as a CNA. She continued there as an LPN for a while. Sim soon became impressed with the ownership of Perry Green Valley and accepted an LPN position there in 2004. She attributes her loyalty and longevity at Perry Green Valley to the company.
"They have always been nothing but kind to me, and they have always been really good with their employees," Sim said. "They like consistency of staffing and that's what I want. I want a company that backs you. If you call them and you say you need something they help."
Compassion for the residents and dedication to the job come to mind when thinking about Perry Green Valley's nursing staff, she said. Everyone in the team comes together whenever a challenge comes about. COVID further revealed what the staff is made of, Sim said. The nursing staff has been phenomenal, she continued.
Nursing students considering a career in a long-term and skilled nursing center need to be prepared to work in a holistic nursing care environment, Sim said. A nurse in long-term care needs to be able to look at the big picture when providing a holistic plan of care for their patients making a home in the 112-licensed bed facility. The staff member should be attentive to whether the resident is compatible with their roommate, if they will come out of their room, eat their meals, take their medicine and be at a healthy weight.
"You look at it holistically like you would like somebody to take care of you — then you'll know how to take care of that patient the correct way," she explained.
She advices for families ask questions whenever they want to be reassured if a particular long-term care facility is the best choice for their loved one. Walk around and talk to the family members and residents, Sim said. She is always available to arrange a tour.
"Word of mouth is always the best in this little old town for sure," Sim said.
The staff is diligent about keeping a clean house. First things are first for Sim when arriving at work. She checks her temperature and then walks around to check on her residents and staff. Sim examines orders and audits. She looks at incident reports — all in the morning.
Sim takes a holistic approach to her own life as well when she is not working.
"I read and I enjoy sitting out back on my beautiful deck my husband bought me."
They love the peace and quiet and enjoy the variety of birds.
For more information visit: www.greenvalleyhealthcare.net.