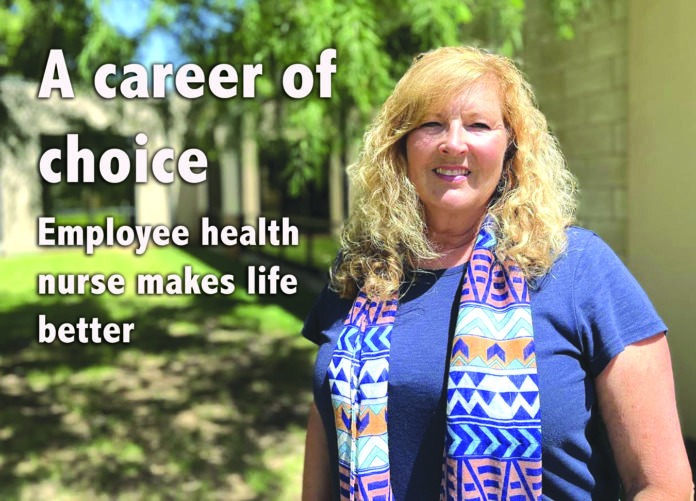 story and photo by James Coburn, Staff Writer
The Oklahoma Center for Orthopedics and Multispecialty Surgery (OCOM) is celebrating its 20th anniversary. Jeanette Reiff, RN, has been OCOM's employee health nurse since the hospital opened. Hospital staff has been treated to several special events throughout the year from meals and giveaways.
"We did an 'unsung hero' this morning for one of our employees (Stephanie Campas) that goes above and beyond and doesn't get recognized enough," Reiff said. "So, we gave her an award and took pictures of her. She's one of our dietary workers. Whatever we need — if we need her to help us with employee lunches or whatever's going on, she does a great job going around and talking to the patients, providing them with meals that meet their needs. And, she always has a great attitude."
Reiff was recruited by OCOM to open the endoscopy department and has enjoyed working with many of the same people for the duration. (story continues below)
The state has immunization requirements for all new hospital employees. Reiff ensures they have their drug screenings and have all their immunizations including the flu. OCOM has had a COVID pod in the hospital since January 2021. Employees report to Reiff for Workers Compensation injuries. She deals with airborne pathogen exposures, but mainly it is bloodborne pathogens.
The state of Oklahoma requires hospitals to have an employee health nurse. So Reiff was recruited from her endoscopy role to bridge that gap. At that time, she had a steep learning curve to accomplish the task.
We had a consultant who was working with us at the time, and she got me in some classes with the health department," she explained.
She also attended some group meetings during lunch with occupational nurses discussing how they handled employee health at their hospitals. She is grateful for the opportunity.
"When I first took it on, I was an endoscopy nurse, so I was doing endoscopy and employee health. And eventually the manager of the endoscopy department moved on, so they moved me up to manager. I was managing the endoscopy department and doing employee health."
Eventually she would work exclusively in employee health.
"I just stuck with it," she said.
Reiff has been a registered nurse since 2000, the year she graduated from Oklahoma City Community College. She began her nursing career on the cardiac floor of INTEGRIS Medical Center and the Jim Thorpe Rehabilitation Center, located in Oklahoma City. The cardiac floor at Integris and Jim Thorpe Rehab were two separate jobs.
She was a stay-at-home mom raising twins when she set her course on nursing. She needed to earn decent money if she worked part-time.
"We had a really bad car accident, and I wasn't sure how well my husband was going to be after they cut him out of that truck," Reiff said.
She considered becoming a physical therapist when a friend encouraged her to join her in applying for nursing school.
"It's been a blessing," Reiff said. "It is rewarding to see so many people who come in hurting so badly and they're able to get joint replacements and feel so much better afterwards."
Certain moments of being a nurse make an indelible impression. Reiff recalled the early days of her career at Jim Thorpe. There was a young patient who had been in a four-wheeler accident and was paralyzed from the waist down. The same nurse had taken care of him every night but was away on vacation. Reiff filled-in his nurse for a couple of weeks while his nurse was gone.
"Everybody told me he was pretty difficult if he didn't have the nurse he was used to," Reiff said. "He wasn't cooperative with the other ones. And he was standoffish with me at first. Then I saw he was watching Crocodile Hunter and I said, 'Oh my twins love that show.' And he said, 'You have twins. My brother and sister are twins.'"
They discovered they had something in common. He stayed at the hospital longer than anticipated because his parents did not use the insurance money wisely, she continued.
"So, they didn't have all the requirements that he needed to go home in a wheelchair," Reiff said. "Making that connection with him — those patients that you see every night for months at a time — it was just great to see him improve, take care of himself and gain some confidence, and finally get to go home."
Reiff never thought of being a nurse as a child, but now she cannot picture her life without it.
"This has been a wonderful place to work. OCOM has given me opportunities that I probably would have never had if I had worked in a larger hospital," she said.
For more information about OCOM visit: https://ocomhospital.com/