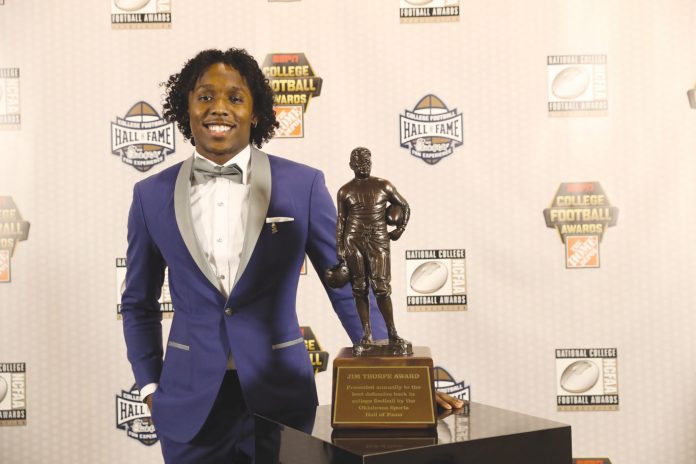 Jim Thorpe Award winner Adoree' Jackson of the University of Southern California will tour the Jim Thorpe Rehabilitation facility at INTEGRIS Southwest Medical Center on Tuesday, Feb. 7, at 9:30 a.m. Jackson will visit with patients and sign autographs before attending a luncheon being held in his honor at the facility.
The Jim Thorpe Award is given annually to the top defensive back in college football. Jackson, a three-year starting cornerback and a three-way performer, is among the nation's most exciting players.
He finished the regular season with four interceptions, 11 pass deflections and two fumble recoveries, all team highs. He also recorded 51 tackles. His all-around game may have buoyed his candidacy. He returned two kicks and two punts for touchdowns this season, tying him for the national lead in overall return touchdowns.
Against Notre Dame, Jackson scored three touchdowns (55-yard punt return, 97-yard kickoff return, 52-yard pass reception), the first time since at least 1958 that a Trojan has had scoring punt and kick returns in a game. Jackson is USC's all-time leader in kickoff return yardage, at 2,045 yards, and is tied for the all-time USC punt return touchdown record, with four.
Earlier this month, Jackson announced that he will enter the NFL draft.
The Jim Thorpe Award is named after history's greatest athlete, Jim Thorpe, and is presented by the Oklahoma Sports Hall of Fame in Oklahoma City. Thorpe excelled at every sport in which he competed, including football where he played on the offensive and defensive side of the ball.
The other Jim Thorpe Award finalists for 2016 were Jourdan Lewis from Michigan and Tre'Davious White from LSU. Jackson is the second player from USC to be chosen as a Jim Thorpe Award winner. Mark Carrier from USC won the award in 1989.
The announcement was made at the Home Depot College Football Awards Show on ESPN. Jackson was presented the Jim Thorpe Award by Thomas Everett, the very first recipient of the Jim Thorpe Award in 1986.
The Oklahoma Sports Hall of Fame will honor Jackson at the Jim Thorpe Award Banquet on Tuesday night, Feb. 7, 2017, in Oklahoma City. The banquet will be held at the National Cowboy and Western Heritage Museum.