CAREERS IN NURSING: NURSE PRACTITIONER CRUZIN' ALONG – MERCY GOHEALTH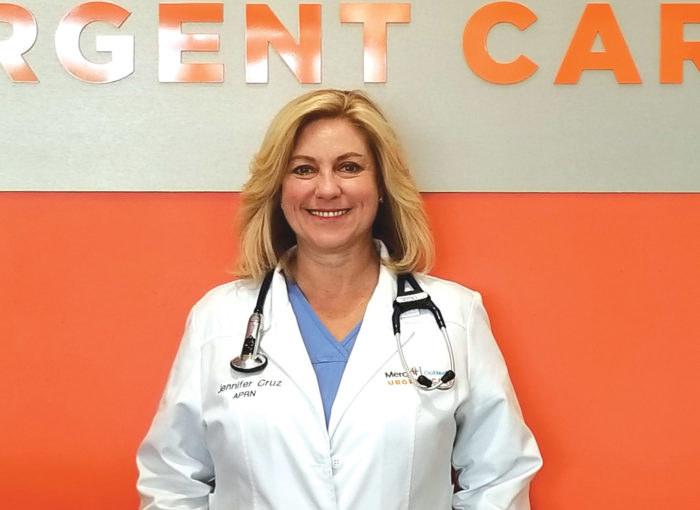 CAREERS IN NURSING
NURSE PRACTITIONER CRUZIN' ALONG: MERCY GOHEALTH
by Vickie Jenkins – Writer/Photographer
Mercy GoHealth is a new level of design and convenient urgent care that is new to the Oklahoma City area. One of the newest locations, 12220 N. MacArthur, you will find Jennifer Cruz, nurse practitioner.
Jennifer was born in Oklahoma City and spent the first 4 years of her life in Oklahoma. "After that, my family and I moved quite a few times. My family moved to Texas, Virginia, Wisconsin and California, then back to Oklahoma where I attended high school. I have also had the opportunity to live one year in Australia and 2 years in Costa Rica," Jennifer commented.
Going to different schools along the way was not a problem for Jennifer. She got her Bachelor's in Spanish from UCO, Associate RN from OSU/OKC, BSN from University of Texas in Arlington and her Masters (Family Nurse Practitioner) from Simmons College in Boston. Jennifer has been a nurse for 9 years and a Nurse Practitioner for 2 years.
Asking Jennifer what qualities make a good nurse, she replied, "Being a nurse is more than doing a job. I would say that the qualities that make a good nurse are: sense of humor, motivation, determination, drive to continue learning on a daily basis, compassion, empathy, selflessness, patience in the most difficult situations, ability to work as a productive team member because nothing is accomplished by just one person or department; it takes the whole team to care for one patient and the ability to teach in a loving and encouraging atmosphere."
One of Jennifer's favorite things at work is that each patient is unique. "I thrive on the personal interaction as well as the pace of Urgent Care. GoHealth strives to personalize each visit as well as care for the patient in a timely manner with emphasis on compassion and quality," Jennifer stated.
I asked Jennifer to describe herself in 3 sentences. 1. I am a dedicated, fun-loving provider that enjoys the privilege of treating our extraordinary Oklahomans. 2. I believe in laughter because it eases tension, promotes faster healing and contributes to an improved provider /patient bond. 3. I love learning and believe that lifetime learning is imperative for a healthy lifestyle.
Jennifer, did you want to be a nurse when you were little? "No, unfortunately I think I scared my mother with the list of careers I was interested in. I wanted to be a surgeon, newscaster, physical therapist, interpreter, world traveler, policeman and almost anything else a child can think of," she said with a laugh.
Jennifer was married for 19 years but currently is not married. "I have one son that is 20 years old that I am extremely proud of as he is working on his undergrad degree at John Hopkins in neurology with a plan of med school," Jennifer stated.
Staying busy at work yet Jennifer still manages to have some spare time to spend time with friends. Her hobbies include working extra to help pay for her son's college, traveling and learning to cook. "A thank you to my friends who have been willing participants in eating questionable dinners," she said.
Some words of wisdom that Jennifer lives by…"God made all of us and we all have a special gift to offer in life. Life is discovering your gift and using it to the maximum. You should never treat someone as if they are not special because he will be the person you need the most later."
What advice would you give to someone going into the medical field? "Be prepared for the emotional aspects both good and devastating. Your hours will be long, hard and challenging which is what makes the career so great. Learning never stops and if it has, you need to change jobs. Healthcare is an ever changing, challenging career that requires stamina, determination, a loving and kind attitude in the most difficult times. The medical field is not a job but a lifestyle. You never leave your work, you always think about the patient or family you are treating and if there is something you could have done better, differently or how they are healing/ progressing medically and emotionally," Jennifer replied.
Now, to one of the most important questions of all; Jennifer, if you were an animal, what would you be and why? "I would be a dog. A dog is a people loving animal, loyal and enjoys endearing moments," she answers.